More recipes
Recipe search
Platinum Jubilee Bread and Butter Pudding
A community recipe by

Brybaz

Not tested or verified by Nigella.com
Print me
Introduction
After I did my Platinum Jubilee Trifle, Denise Chennells said that it was too rich and creamy for her. So I thought about doing something less rich. In the end I decided to do a special Bread and Butter Pudding for those who want less rich food. It is surprisingly good and yummy.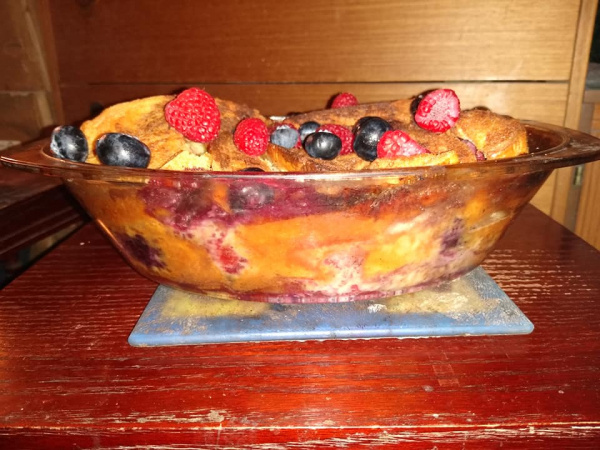 300 millilitres double cream
500 millilitres milk
75 grams sugar
3 egg yolks
2 heaped tablespoons icing sugar
100 millilitres sherry
8 slices white bread
50 grams butter room temperature
200 grams raspberries
200 grams blueberries
1 teaspoon cinnamon
1 teaspoon mixed spice
2 teaspoons vanilla essence
Method
Platinum Jubilee Bread and Butter Pudding is a community recipe submitted by Brybaz and has not been tested by Nigella.com so we are not able to answer questions regarding this recipe.
Put the sherry and Icing sugar in a pot and slowly heat until icing sugar has dissolved then add 100 grams of Raspberries and heat until soft and warm. Then leave to cool adding the vanilla essence. Put them in a clear Pyrex roasting or casserole dish.
Cut the edges off the white bread and put butter on one side before cutting it in half diagonally. Place two slices, butter side up, on top of the Raspberry mix. Then another slice to fill in the gaps.
Place the Blueberries on top of the bread and add the cinnamon before adding two more slices of bread, as before, on top. Sprinkling the mixed spice on top.
Add more Raspberries and Blueberries and add the last of bread on top butter side up and fill in all the gaps left.
To make the custard, separate the egg yolks and put in a measuring jug, then heat the milk and sugar in a pot until the sugar has dissolved. Put some of the milk into the measuring jug with the egg and stir until a yellow colour appears and the jug is hot. Add to the rest of the milk and put back on the hob stirring continuously until there is a thick layer on the back of the spoon and allow to cool.
Add the double cream to the milk and egg custard, mixing well and pour over the bread, soaking all the bread up and leave for an hour.
Preheat the over to 180 centigrade (160 fan assisted ovens) or gas mark 4.
Place the pudding in the oven for about 40 mins or until golden brown.
Add the remaining Raspberries and Blueberries on top before serving.a
Other recipes you might like