Print me
Introduction
I came up with this recipe by mixing and combining several of Nigella's quail recipes together. The honey in the marinade was inspired by the lovely St Tropez Chicken recipe in Feast. The touch of balsamic vinegar was inspired by a recipe for Buttered Quail with Balsamic Vinegar in Anna Del Conte's Gastronomy of Italy. As you can see in the picture, the quail comes out a lovely burnished bronze colour.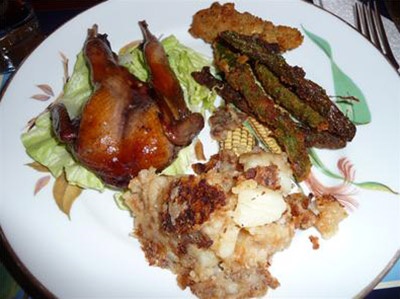 salt
pepper
¼ cup olive oil
¼ cup red wine
1 tablespoon honey
1 teaspoon lemon juice
1 teaspoon balsamic vinegar
1 clove garlic (peeled and bruised)
1 small shallot (peeled)
4 butterfield quail (spatchcocked quail)
butter
Please note that nigella.com is not able to accept responsibility for any substitutions that Ocado may need to make as a result of stock availability or otherwise. For any queries, head to ocado.com/customercare.
Feel free to use the "swap" feature and adjust brands and quantities as needed.
Method
Bronze Baked Quail is a community recipe submitted by Psappha and has not been tested by Nigella.com so we are not able to answer questions regarding this recipe.
Rub the quails with the butter, salt, and pepper. Place in a frying pan just large enough to fit the quails. In a measuring cup, combine the olive oil, wine, honey, lemon juice, and vinegar.
Pour this marinade over the quails, add the garlic and shallot, and cover with plastic wrap. If you are doing this the day before, put in the fridge to marinate overnight.
If you are doing this the afternoon of, leave out to keep the birds at room temperature. When you are ready to cook, preheat the oven to 425F/ Discard the garlic and shallot.
Remove quails to a baking dish (skin side up), leaving the marinade in its frying pan. Put the frying pan over a moderately high heat and bring to a boil. Let it reduce until slightly thickened. You can add a spoon of sugar if you want to increase the syrupy consistency.
When the marinade has reduced, pour over the birds and brush the quails with the syrup. Bake in the preheated oven for about 10 minutes, or until the juices run yellow. To serve, place each quail on a bed of butter lettuce.
Other recipes you might like