More recipes
Recipe search
Monster Chocolate Crackle Cookies
A community recipe by

redheadev

Not tested or verified by Nigella.com
Print me
Introduction
These cookies only look like you spent all day baking, so quick and easy, and oh so delicious !!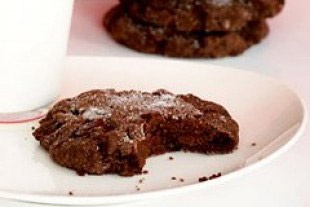 3 ounces bittersweet chocolate (70% cocoa, broken up)
6 ounces chocolate chip cookie dough (refrigerated - take out and leave at room temperature)
⅔ cup dried cranberries (cherry flavour)
2 tablespoons sugar
Method
Monster Chocolate Crackle Cookies is a community recipe submitted by redheadev and has not been tested by Nigella.com so we are not able to answer questions regarding this recipe.
Heat oven to 350℉. You'll need a baking sheet.
Melt chocolate in microwave on medium or in a saucepan over very low heat.
Break dough in chunks into a medium bowl. Add melted chocolate (no need to cool) add Craisins; stir with a wooden spoon until blended.
Put sugar in small bowl. Roll 1/4-cupfuls dough into balls. Roll in sugar to coat. Place 21/2 in. apart on ungreased baking sheet. Flatten cookies with bottom of measuring cup to 21/2-in. rounds.
Bake 14 to 16 minutes until tops of cookies look dry and crackled. (Cookies will still be very soft.) Let cool on sheet on a wire rack 2 minutes before removing to rack to cool completely.
Different Takes Add 1/3 cup chopped toasted almonds to dough before baking. Use orange- instead of cherry-flavor Craisins. Serve cookies warm topped with ice cream.
Additional Information
Prep: 10 mins Cook: Ready in: 25 mins
Other recipes you might like