Print me
Introduction
Dip/Dunk these traditional South African rusks in your fave hot drink !!! Delicious and healthy too !! Great for breakfast or inbetween snack.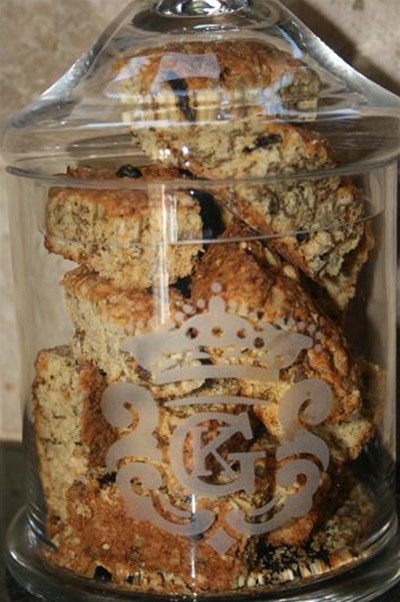 2⅕ pounds self-rising flour
2 ounces bran (optional)
½ fluid ounce baking powder
⅙ fluid ounce salt
4 cups bran flakes
2 cups quick-cooking oats
1 cup sunflower seeds
1½ cups ground linseed
½ cup raisins
1 cup coconut
3 crumbled weetabix
18 ounces butter
1½ cups brown sugar
4 large eggs
17½ fluid ounces buttermilk
4½ fluid ounces milk
Please note that nigella.com is not able to accept responsibility for any substitutions that Ocado may need to make as a result of stock availability or otherwise. For any queries, head to ocado.com/customercare.
Feel free to use the "swap" feature and adjust brands and quantities as needed.
Method
Health Rusks is a community recipe submitted by ReneK and has not been tested by Nigella.com so we are not able to answer questions regarding this recipe.
Heat oven to 180 degrees Celsius.
Mix all dry ingredients in your biggest mixing bowl.
Melt Butter in pot and add sugar, stir until sugar is dissolved. Cool down for a few minutes.
Add Butter mix to dry ingredients.
Beat Eggs, Buttermilk and Milk together and add to mixture - Mix all until well combined.
Divide dough into 2 oven baking trays. Press dough down and mark rusks with a sharp knife. (+- 5cm x 3cm). Bake for 1 hour. Let cool in Baking trays. Set oven to 100 degrees Celsius.
Cut rusks on marked lines and lift rusks out onto bigger trays or foil-lined oven rack. There has to be some spaces between rusks. Dry rusks out for 4 hours. Cool. Store in airtight containers
Additional Information
I change this recipe all the time eg: Instead of the raisins I use pumpkin seeds or perhaps pecan nuts. You can change this recipe as you like as long as you use the same amount dry and wet ingredients. ENJOY!!!
Other recipes you might like