Print me
Introduction
This recipe has Nigella's name written all over it. I kept waiting for it to pop up in one of her books, so I thought I would give fate a helping hand.
800 pomegranates
63 almonds
63 pinenuts
63 pistachios
188 sugar (subjective and depending on sourness of pomegranate)
63 rosewater
63 orange blossom water
Method
Pomegranate Fruit Salad is a community recipe submitted by SamIAm and has not been tested by Nigella.com so we are not able to answer questions regarding this recipe.
Remove the Pomegranates seeds from their shells.
Soak the almonds for one to two hours in hot water, drain and peel them.
Soak the pine nuts in hot water for one to two hours, drain and wipe clean.
Soak the pistachios in hot water for one hour, drain and peel.
Mix the pomegranate seeds with the sugar and rose and orange blossom waters. Mix on and off untill sugar dissolves.
Add the nuts, while keeping some for the top.
Put in the fridge until ready to serve. This is to be eaten cold.
Additional Information
This looks like a bowl of jewels, so it is much more effective to put all the ingredients in a see-through glass bowl. Beautiful to behold, delicious and refreshing to eat.
Other recipes you might like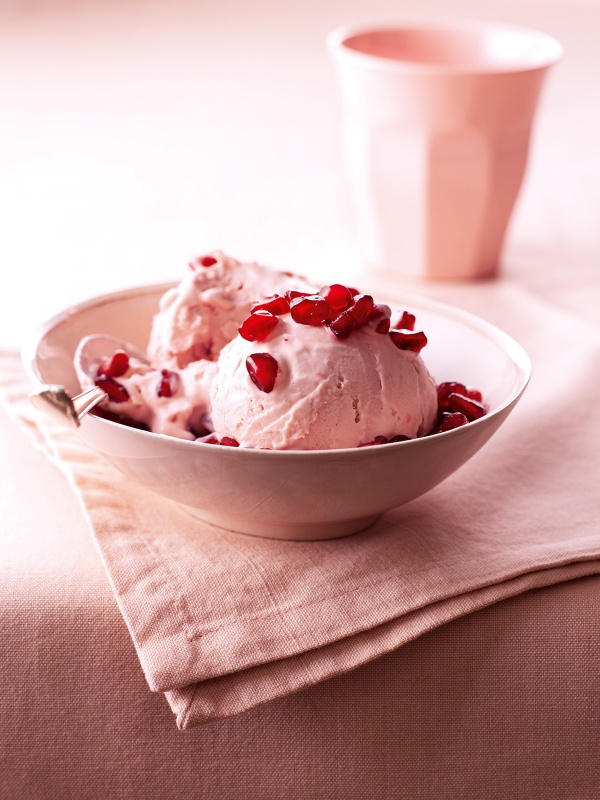 No-Churn Pomegranate Ice Cream