More recipes
Recipe search
Chocolate and ricotta cheese cake
A community recipe by

SaraNoble

Not tested or verified by Nigella.com
Print me
Introduction
This is my family traditional cake. My grandma made it with a glass in the center of the tin, to create a "ciambellone", my mother added the chocolate. I'm continuing to make it whenever in need of home comfort. Technically speaking, it is a "tan per tan": every ingredient is in the same quantity of the others, so you can easily change the portions and quantities, just maintain the 1:1 relation. I love it with a hint of cinnamon.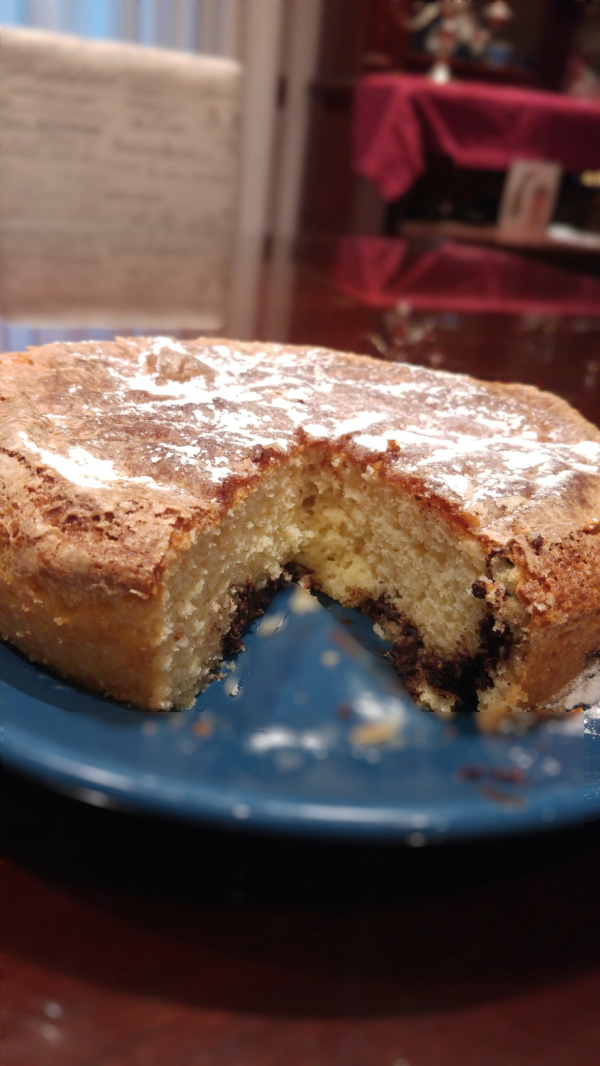 300 grams flour
300 grams sugar
3 eggs
300 grams ricotta cheese
16 grams baking powder
100 grams chocolate bar in pieces
25 grams powder sugar
2 teaspoons cinnamon (optional, you can use any other flavour, as vanilla or lemon)
Method
Chocolate and ricotta cheese cake is a community recipe submitted by SaraNoble and has not been tested by Nigella.com so we are not able to answer questions regarding this recipe.
Preheat the oven to 180°C
Beat the eggs with the sugar for some minutes with an electric hand mixer, until they are creamy and pluffed up.
Add the ricotta cheese and beat again, just to mix the ingredients, nothing more.
Add the flour and the baking powder and mix again (you can use also a wooden spoon, if you prefer).
Add the pieces of chocolate and mix with a spoon.
Pour the cake batter into a 24 cm greased and lined tin (24 cm) and sieve the powder sugar all over it: this will make the surface just a little bit crispy.
Bake in the oven for 30 minutes.
Other recipes you might like