More recipes
Recipe search
Scrumdiddlyumptious Chocolate & Pecan Brittle Cake
A community recipe by

recipeking

Not tested or verified by Nigella.com
Print me
Introduction
For those who won't stand for anything other than chocolatey perfection- look no further.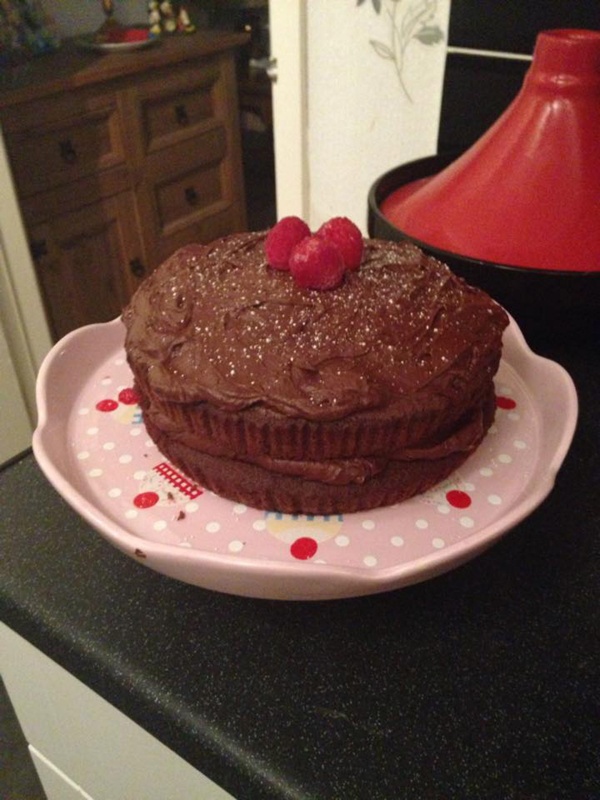 For the Cake
6 ounces self-rising flour
4 ounces margarine (or butter)
3 medium eggs
10 ounces superfine sugar
2 ounces unsweetened cocoa
6 tablespoons milk
1 teaspoon baking powder
For the Choccy Pecan Buttercream
4 ounces margarine (or butter)
6 ounces confectioners' sugar
2 ounces unsweetened cocoa
1 teaspoon milk
4 ounces superfine sugar
1 ounce pecan nuts
Method
Scrumdiddlyumptious Chocolate & Pecan Brittle Cake is a community recipe submitted by recipeking and has not been tested by Nigella.com so we are not able to answer questions regarding this recipe.
For the main event! (the cake)
Pre-heat your oven to 180°C/350°F/Gas 4, and prepare your 2 x sandwich tins (grease and line with baking paper)
Get your stuff together, you'll need: scales, sieve, 2 x bowls, your ingredients (bit patronising...) and your favourite mixing tool - I prefer a spoon but use an electric whisk if you'd prefer - it's up to you.
Seive your flour, baking powder and unsweetened cocoa into one of your bowls.
In the other bowl mix your sugar and your butter together until nice and smooth.
Now, put a third of the flour, baking powder and unsweetened cocoa in with the egg and butter mix with one of your eggs and mix together. Repeat this, repeat this again. Pour in the milk.
And now stir until all your ingredients are nicely mixed togehter and smoother than a Louis Armstrong album.
Divide your recipe into the 2 x sandwich tins and place in the oven for 25-30 minutes.
Whilst it's cooking you will note the incredible smell that is dispersing majestically around your kitchen. salivating is not only acceptable but encouraged.
For the buttercream
To distract yourself from the excitement of the immenent cake you should make your buttercreamm..mmm..mm..
Mix your butter, icing cugar, unsweetened cocoa and milk together to form the buttercream.
Place a large sheet of baking paper on the kitchen side next to the oven.
Put a pan on a low heat and pour the superfine sugar in, cook until melted and dark, now throw the pecans in.
Pour pecan and melted sugar onto the prepared baking paper and allow to set.
When pecan brittle is cooled, wrap it up in the baking paper or place into a sandwich bag
Get yourself a rolling pin (I like to stick a photo of an ex on top of the pecan brittle at this point) now, release your stress! Bash the brittle to smithereens!
Once done, pour half the pecan crumble into the butter cream and mix together.
Once your cakes are cooled use half of the buttercream for filling, and the other half on top of the cake.
Sprinkle the remaining pecan crumble on top. I know what you're thinking and you're right- it DOES look amazing.
Ta-daaaaah! One scrumdiddlyumptious chocolate & Pecan brittle cake, and its all yours!!
Other recipes you might like