Print me
Introduction
Anyone who has watched the movie Stranger the Fiction will know what these are about. These are yummy cookies that only improve on sitting a day or two.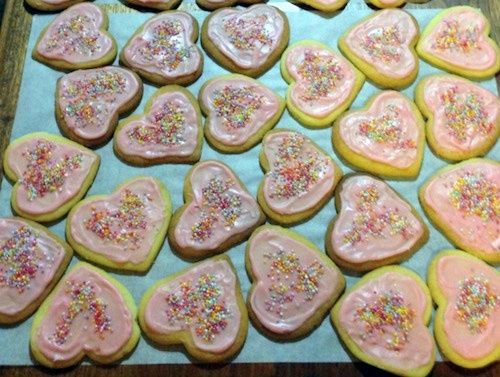 For the Cookies
2¾ cups self-rising flour
½ cup cornstarch
6 ounces softened butter
½ cup vegetable oil (or light olive oil)
1 cup superfine sugar
1 large egg
2 teaspoons vanilla essence
½ teaspoon almond essence
For the Glaze
1½ cups confectioners' sugar
½ teaspoon vanilla essence
5 tablespoons cream
2 drops food colouring (pink)
1 hundreds and thousands
Please note that nigella.com is not able to accept responsibility for any substitutions that Ocado may need to make as a result of stock availability or otherwise. For any queries, head to ocado.com/customercare.
Feel free to use the "swap" feature and adjust brands and quantities as needed.
Method
Bavarian Sugar Cookies is a community recipe submitted by Sooli and has not been tested by Nigella.com so we are not able to answer questions regarding this recipe.
Method for cookies: Cream the butter, oil and sugar together until soft and pale.
Add the egg, and both the vanilla and almond essences mix well.
Add the self raising and the corn flour and mix to form a dough.
Wrap in cling wrap and place in the fridge to firm up for no longer than an hour.
Take out of fridge and roll out dough to 4mm thickness between two sheets of cling wrap to make it easier to peel off the cookies.
Cut out heart shapes or other shapes and place on trays lined with baking paper.
Gather up any left over dough and fold over itself and push back into a brick then re-roll and continue to cut out. You may need to do this a couple of times to use up all the dough.
Bake in a medium to hot oven on the middle shelf for 7 to 12 minutes until light golden brown. You may need to turn the tray at the 4 to 5 minute mark to stop the corner cookies from burning.
Remove the cookies on the baking paper to a flat surface and allow to cool.
Ice with the glaze and decorate with sprinkles if desired.
The cookies then need to sit to allow the glaze to dry, overnight is best. Then place in an airtight container.
Method for glaze: Combine all the ingredients in a bowl and mix until smooth, mixture should be about the consistency of thick cream.
Apply a thin coating to the top of the cookies using a palette knife or spatula.
Top with sprinkles in icing.
Additional Information
They will keep for up to a week - if they last that long. Also you will find that they only improve on sitting for a couple of days. The dough will also freeze and keep for several months. You can then either slice cookies from the roll, or allow to thaw and roll as for fresh dough. These also look pretty as X-mas trees with white or green icing and sprinkles.
Other recipes you might like