More recipes
Recipe search
Bottled Apricots With Vanilla
A community recipe by

sparkles

Not tested or verified by Nigella.com
Print me
Introduction
Nice served with plain ice-cream
3 pounds firm, ripe fresh apricots
4 ounces superfine sugar
½ cup lemon juice
2½ cups water
2 vanilla bean
Method
Bottled Apricots With Vanilla is a community recipe submitted by sparkles and has not been tested by Nigella.com so we are not able to answer questions regarding this recipe.
Immerse the apricots in a pan of gentle boiling water for 20 to 30seconds.
Immediately remove the apricots from the water and peel off their skins using a small sharp knife, or your fingers if skins come off easily,
Leave to cool.
Put the sugar, lemon juice and water ina saucepan over a low heat, stirring, until the sugar has dissolved. Bring to the boil.
Add the apricots to the syrup, in batches if necessary, and poach for 10 minutes.
Using a slotted spoon, immediately transfer the apricots in two warm sterilised 1.1litre jars.
Slit the vanilla pods lengthways withal knife and add two halves to each jar.
When all the apricots have been removed from the pan, boil the syrup for 5 minutes.
Pour into prepared jars to within 1.5cm of the top. Swirl the jars to expel any air bubbles and seal them.
Process ina water bath.
Store in cool, dark, dry place for one month before eating. Use within 12 to 18 months
Other recipes you might like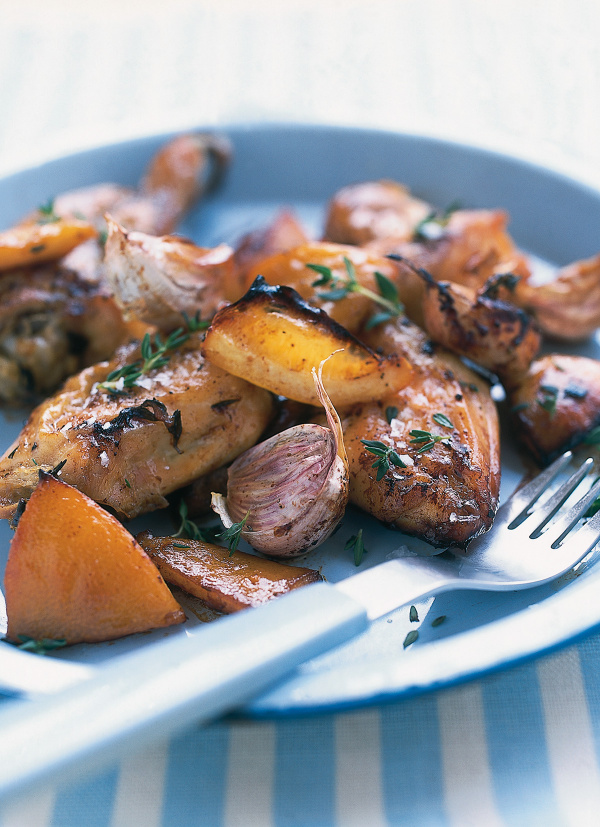 Slow Roasted Garlic and Lemon Chicken