More recipes
Recipe search
Chai Latte Pots de Creme
A community recipe by

OfBatterAndDough

Not tested or verified by Nigella.com
Print me
Introduction
These adorable little Pots de Creme, infused with the flavors of chai and vanilla, are impossibly smooth, silky, and melt-in-your-mouth delicious.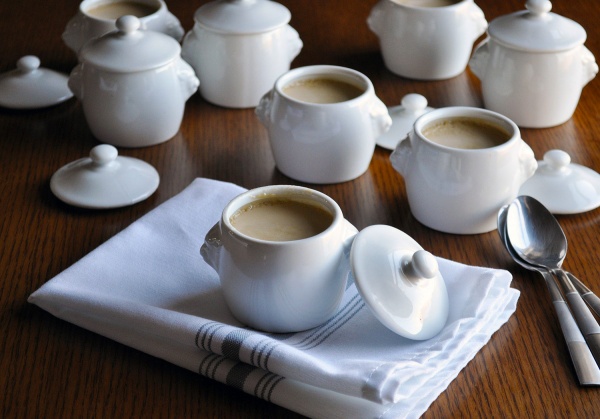 2½ cups heavy cream
2⅓ cups milk whole
½ cup sugar
1 tablespoon sugar
1⅛ ounces chai tea powder
7 egg yolks large
2 teaspoons vanilla
Please note that nigella.com is not able to accept responsibility for any substitutions that Ocado may need to make as a result of stock availability or otherwise. For any queries, head to ocado.com/customercare.
Feel free to use the "swap" feature and adjust brands and quantities as needed.
Method
Chai Latte Pots de Creme is a community recipe submitted by OfBatterAndDough and has not been tested by Nigella.com so we are not able to answer questions regarding this recipe.
Combine the cream, milk, 5 tbsp sugar, and powdered chai mix in a large saucepan. Whisk to combine and heat over medium high heat until little bubbles appear around the edge of the pan.

Meanwhile, using an electric mixer, beat the egg yolks with the remaining ¼ cup sugar until the mixture is light and fluffy.

With the mixer running, slowly pour the hot cream mixture into the egg yolks in a thin, steady stream. If you pour it in too fast it will cause the eggs to scramble. Beating it into the eggs slowly tempers the yolks, creating a smooth custard. Stir in the vanilla. Strain the mixture through a fine mesh sieve into a pitcher or a large measuring cup. Cover, and refrigerate for at least 8 hours, and up to 1 week.

To bake, put a rack in the center of your oven and heat to 300 degrees. Prepare a glass baking dish by lining the bottom with parchment paper and setting the dish on baking sheet. This provides extra insulation so that the pots de creme cooks slowly and evenly. Gently stir the custard and pour into pots de creme pots, filing each to ½ inch of the top. Cover each pot with their lid. Fill the glass baking dish with warm water, allowing the water to come about ⅔ of the way up the sides of the pots de creme pots.

Place in the oven and bake for 1 hour and 20 minutes to 1 hour and 40 minutes. You'll know that the pots de creme is done if you remove one of the lids and shake the pot gently. The custard should be set, but jiggle slightly, like jell-o. Remove the pots from the hot water and allow to cool on a rack to room temperature. Refrigerate for at least 6 hours before serving, and up to 3 days.
Other recipes you might like