Print me
Introduction
A very nice throw it in using what you have in the cupboard and fridge. Easy to do and tastes really great. The herbs I used were Parsley, Dill and Sage with Fresh Wild Rocket and Worcester sauce which gave a nice flavour but you can add any spice or herbs you want.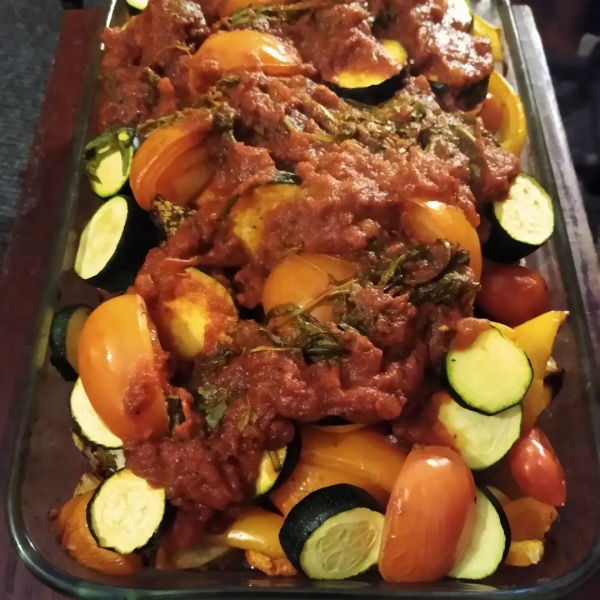 6 large potatoes (cut into small chunks)
1 large red onion (chopped into medium chunks)
3 cloves garlic (chopped)
6 large tomatoes (cut into quarters)
3 carrots (cut into slices)
2 large pepper (cut into strips)
1 cauliflower (cut into small chunks)
1 jar of tomato Pasta sauce
1 tablespoon Worcestershire sauce
4 tablespoons olive oil
1 tablespoon herbs to taste
Please note that nigella.com is not able to accept responsibility for any substitutions that Ocado may need to make as a result of stock availability or otherwise. For any queries, head to ocado.com/customercare.
Feel free to use the "swap" feature and adjust brands and quantities as needed.
Method
Spud Bake is a community recipe submitted by Brybaz and has not been tested by Nigella.com so we are not able to answer questions regarding this recipe.
Pre-cook the white potatoes and carrots in a pot and boil for 5-10 mins and then let drain then cool down and do the cauliflower for about 5 minutes.
Put oven on 200 centigrade or 180C fan or gas mark 6.
Put potatoes, carrots, garlic and onion into a bowl and add 2 tablespoons of olive oil and mix well, then put in a long pasta dish or roasting dish 39 x 20 cm and bake in oven for 20 minutes.
Do the same for cauliflower and peppers and the other 2 tablespoons of olive oil, and add to the potatoes bake another 20 minutes.
Add the tomatoes, courgettes, and the rest of ingredients and top with tomato pasta sauce and herbs and cook for another 5-10 mins or until cooked.
Add any fresh herbs before serving.
TIP: you can use tinned tomatoes and just put them in just 5-10 mins at the end. Pre-cooking the potatoes, carrots and cauliflower will make them soft inside but if you don't it will take longer to cook them in the oven about 40 mins. Don't over boil the cauliflower or it will fall apart. Serve with any herbs or spices you like.
Other recipes you might like