Print me
Introduction
Biscotti are so versatile and make great Christmas gifts as they're easy to make, store and transport and have a reasonably long shelf life if kept in an airtight container. They're also the perfect accompaniment to tea or coffee if you fancy something a bit lighter after overdoing it on the stodgy cake over the holidays!
I can't imagine Christmas without the comforting flavours of stollen, packed with sweet sticky marzipan and sharp juicy cranberries, so this is my attempt at recreating the beloved cake in crunchy biscuit form.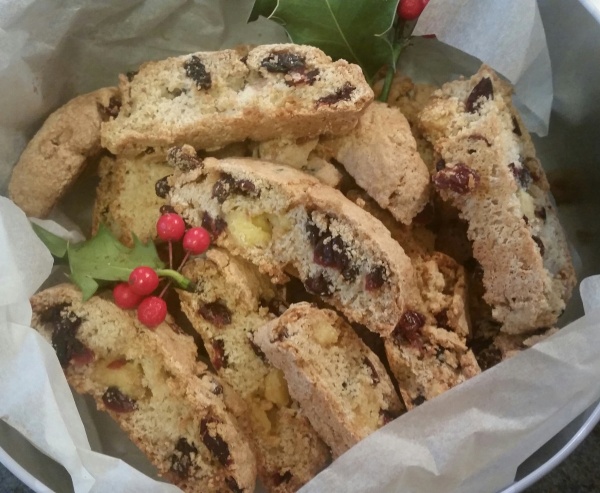 180 grams self-raising flour
80 grams caster sugar
2 tablespoons ground almonds
1 egg
1 tablespoon milk
40 grams dried cranberries
40 grams sultanas
40 grams marzipan chopped into small cubes
1 teaspoon almond extract
½ teaspoon baking powder
Method
Stollen Biscotti is a community recipe submitted by cloud9point1 and has not been tested by Nigella.com so we are not able to answer questions regarding this recipe.
Pre-heat the oven to 180 degrees C (or 160 fan) and line a large flat baking tray with baking parchment.
Mix the flour, sugar, ground almonds and baking powder together in a large bowl then stir in the cranberries, sultanas, marzipan cubes and almond extract.
Beat the egg and milk together thoroughly and pour into the mixture.
Mix with a wooden spoon and then your hands until the ingredients come together to form a stiff dough. If it's too sticky add a little more flour and if it's too dry and crumbly add a splash more milk.
Roll the dough into a sausage shape about 25-30cm long and place on the baking tray then gently flatten it until it's about 2cm tall.
Place in the oven for around 25-30 minutes until the dough is firm with a crust but still fairly pale.
Remove from the oven and reduce the heat to 140 degrees C then allow the dough to cool for around 10 minutes before sawing into pieces about 2cm thick using a serrated knife.
Place the biscuits back on the baking tray and cook for a further 25 minutes or until lightly browned, then leave to cool before enjoying with tea, coffee or a festive tipple!
Other recipes you might like