More recipes
Recipe search
Storecupboard (no-rum) truffles
A community recipe by

PamelaLH

Not tested or verified by Nigella.com
Print me
Introduction
This is a wartime recipe, found in my grandmother's handwritten recipe book, but credited to my great aunt. No one knows where Auntie Pat got the recipe, but it's incredibly easy, delicious and infinitely variable.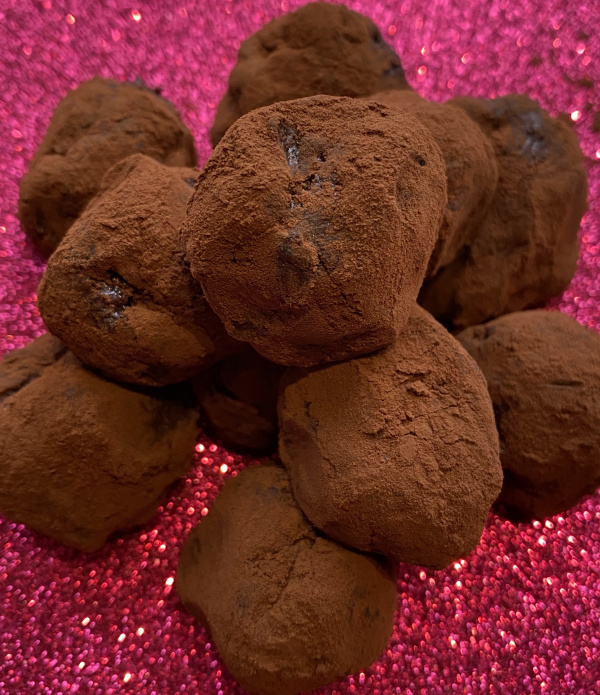 6 tablespoons milk powder
2 tablespoons sugar
2 tablespoons unsweetened cocoa
2 tablespoons raisins
2 tablespoons fresh brewed coffee
2 tablespoons water
1 tablespoon unsweetened cocoa
Please note that nigella.com is not able to accept responsibility for any substitutions that Ocado may need to make as a result of stock availability or otherwise. For any queries, head to ocado.com/customercare.
Feel free to use the "swap" feature and adjust brands and quantities as needed.
Method
Storecupboard (no-rum) truffles is a community recipe submitted by PamelaLH and has not been tested by Nigella.com so we are not able to answer questions regarding this recipe.
Put everything except the last tablespoon of unsweetened cocoa into a small bowl and mix really well. It will look quite sloppy at this stage.
Put the bowl into the fridge for a few hours, to firm up.
Put the last tablespoon of unsweetened cocoa onto a saucer or similar.
Use a teaspoon to scoop out small dollops of truffle mix, then use your hands to form them into balls.
Drop each ball onto the saucer of unsweetened cocoa and roll around gently to coat.
Eat immediately, or keep in the fridge for up to 3 days.
Additional Information
The recipe originally used Camp coffee, but that was not available on the official list of ingredients here. Together with the raisins, it has the curious effect of creating a flavour reminiscent of rum and raisin. Strong coffee made with instant powder can be used instead. In fact, the recipe can easily be varied by replacing the coffee/water with alcohol e.g. rum, cherry brandy, orange liqueur. You can use any dried fruit you like, or glace peel or stem ginger. You can also use either white or brown sugar.
Other recipes you might like