Print me
Introduction
As requested by the Webmistress! These dry, crumbly, shortbread-like biscuits are traditionally eaten around Christmas and New Year in Greece. They are formed into crescent-shapes and very thickly coated in icing sugar. My original recipe is in cups & imperial measures, the conversions (in brackets) are approximate.
½ kilogram almonds (blanched and chopped)
1 teaspoon baking powder
125 millilitres brandy (or ouzo)
624 grams butter
3 medium egg yolks
1⅛ kilograms all-purpose flour
4 tablespoons rosewater
198 grams superfine sugar
1 teaspoon vanilla essence
794 grams confectioners' sugar
Method
Kourambiedes is a community recipe submitted by StoupaTart and has not been tested by Nigella.com so we are not able to answer questions regarding this recipe.
Beat butter with a wooden spoon until fluffy. Beat in the superfine sugar.
Add everything except confectioners' sugar & rosewater and knead until smooth & firm.
Pat into small flat crescent shapes and place on a buttered baking sheet.
Bake at 160-180° for 15-20 minutes. Watch that they don't brown.
Remove from the oven, sprinkle with rosewater & dust liberally with confectioners' sugar.
When cool, dredge again with tons of confectioners' sugar to densely coat.
Additional Information
Orange Flower Water can be substituted for Rosewater. Allegedly, these keep up to a month, but they're unlikely to sit around that long. They are incredibly dry, so best taken with a drink - something very sweet like a Tia Maria, perhaps.
Other recipes you might like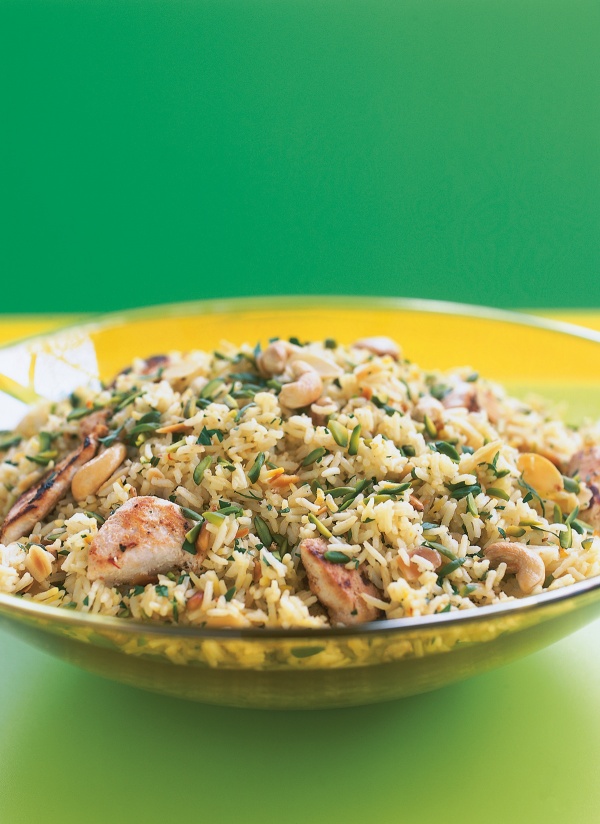 Saffron Scented Chicken Pilaf