Print me
Introduction
This is a memory from my childhood...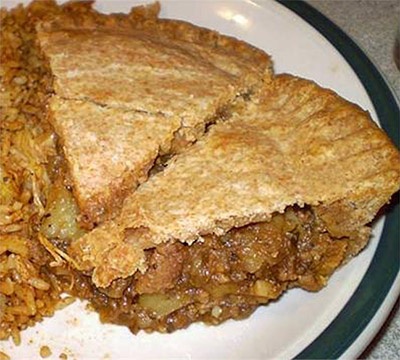 1½ cups peeled and cubed potatoes
2 pounds ground pork
2 cups sliced mushrooms
¾ cup finely chopped celery
¾ cup chicken broth
2 medium finely chopped onions
3 minced cloves garlic
¾ teaspoon salt
½ teaspoon pepper
½ teaspoon dried thyme
½ teaspoon dried savoury
¼ teaspoon ground clove
¼ teaspoon cinnamon
1 bay leaf
puff pastry
1 egg yolk
Method
French Canadian Toriere is a community recipe submitted by susymac and has not been tested by Nigella.com so we are not able to answer questions regarding this recipe.
Preparation: In saucepan of boiling salted water, cover and cook potato until tender, about 12 minutes. Drain and mash; set aside.
Meanwhile, in deep skillet, saute over medium-high heat, mashing with fork, until no longer pink, about 8 minutes. Drain off fat. Add mushrooms, celery, stock, onions, garlic, salt, pepper, savoury, thyme, cloves, cinnamon and bay leaf; bring to boil.
Reduce heat, cover and simmer until almost no liquid remains, about 25 minutes. Discard bay leaf. Mix in potatoes. Let cool.
On lightly floured surface, roll out 1 of the pastry discs to scant 1/4-inch (5 mm) thickness. Fit into 9-inch (23 cm) pie plate. Spoon in filling.
Roll out remaining pastry. Brush pie rim with water; cover with top pastry and press edge to seal. Trim and flute. Roll out scraps; cut out holiday shapes. (Make-ahead: Wrap tourti? and shapes separately; refrigerate for up to 24 hours. Or overwrap in heavy-duty foil and freeze for up to 2 weeks; thaw in refrigerator. Add 20 to 30 minutes to baking time, covering with foil after 45 minutes; remove foil for last 10 minutes.) Mix egg yolk with 2 tsp (10 mL) water; brush three-quarters over top. Arrange cut outs on top; brush with remaining egg wash. Cut steam vents in top.
Bake in bottom third of 400°F (200°C) oven until hot and golden brown, about 50 minutes.
Other recipes you might like