Print me
Introduction
This is great for parties, snack, or just for you or the kids. It's tasty, chewy and if you have a sweet tooth then it's for you. So easy to make!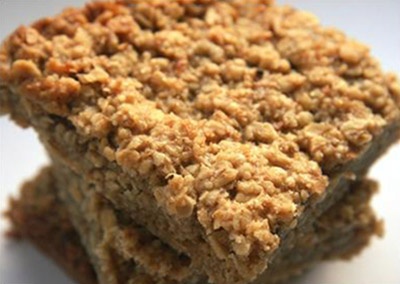 Ingredients
Serves: (Makes 20 mini bites)
½ cup butter
2 tablespoons soft light brown sugar
5 tablespoons light corn syrup (or golden syrup)
2 cups quick-cooking oats
1 banana
Method
Chewy Banana Flapjack is a community recipe submitted by Tammyxx and has not been tested by Nigella.com so we are not able to answer questions regarding this recipe.
Heat butter, sugar and syrup in large saucepan until melted.
Add oats and a mashed up banana and mix well.
Spread mixture over 8 inch pan and bake in preheated 350 degree oven,
keep in the oven for 15 to 20 minutes or until golden brown.
Cut into squares while warm.
Leave in pan to cool completely.
Store in airtight container. (That easy)
Additional Information
Leave until it's cool or else it will break. If you don't like the fact that it's chewy, leave it in the fridge for 10 minutes. You can add other ingredients other than bananas.
Other recipes you might like