More recipes
Recipe search
Thanksgiving Dinner Sweet Potatoes
A community recipe by

tasha_durbin

Not tested or verified by Nigella.com
Print me
Introduction
This recipe has been in my family for a while. I'm not sure where it originated. We have it every Thanksgiving and I fix it often during the winter when I need some good, satisfying soul food. It is a souffle-like casserole.
For the Sweet Potatoes
750 millilitres mashed sweet potatoes
250 millilitres sugar
125 millilitres evaporated milk
63 millilitres butter
3 eggs
1 teaspoon salt
1 teaspoon vanilla
For the Topping
125 millilitres brown sugar
125 millilitres pecan nuts
63 millilitres flour
2 tablespoons cold butter
Method
Thanksgiving Dinner Sweet Potatoes is a community recipe submitted by tasha_durbin and has not been tested by Nigella.com so we are not able to answer questions regarding this recipe.
Make sure the potatoes are well-mashed. I find it is best to let them cool slightly after cooking, then rice them.
Dump all ingredients together in large bowl and mix well.
Transfer mixture to casserole dish (I usually use a 2 qt dish).
Bake at 325 degrees F for 45-50 minutes.
While the potatoes are baking, mix the ingredients for the topping and crumble over the top when there is approx 15-20 minutes left of baking time. When using a shallow dish I usually double the topping to cover the entire surface.
Other recipes you might like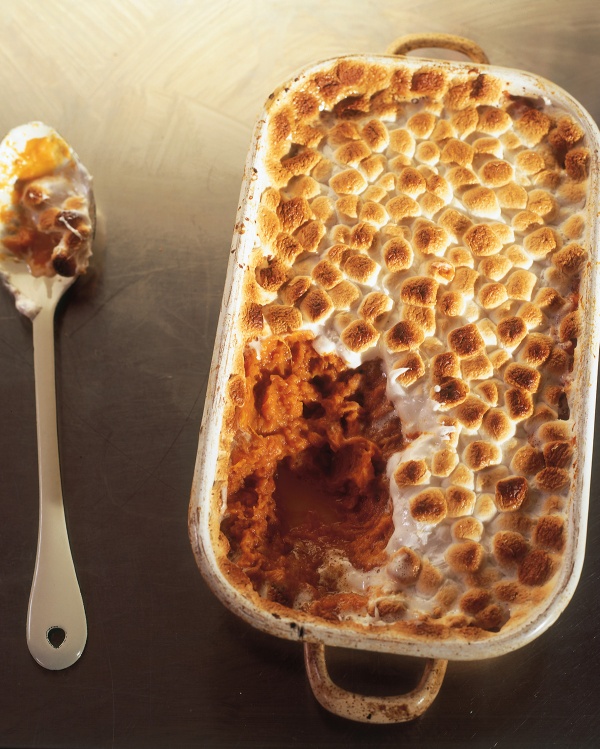 Sweet Potatoes With Marshmallows