More recipes
Recipe search
Tonantzin Dark Chocolate Vegan Truffle
A community recipe by

Tonan

Not tested or verified by Nigella.com
Print me
Introduction
These raw chocolate truffles are a lovely alternative to the usual candy truffles made with sugar and cream that you'll find around. And they taste even much better. No overload of cream, no overload of sugar.
They've got a smooth texture, have an awesome taste and they come loaded with nutrients and antioxidants. They use a superfood combo of dark chocolate and coconut oil.
Natural ingredients are used for this recipe, and dark chocolate is low in sugar and high in antioxidants. This is a nutritious treat that is good for your body.
There is nothing to hate about this snack. You'll love the flavor, the texture and how easy they are to make. In just about 3 hours, they'll be ready. You can make this on any special holiday, and you will have your family and friends craving for more.
The coconut oil melts easily at room temperature so you should keep this truffle in the fridge until you are ready to eat them.
With this recipe, you can make eight truffles but if you need to make more, just multiply all the ingredients. You might think this recipe is long, but I assure you, the truffles are very easy to make. I just added more details, so that everything can be well explained.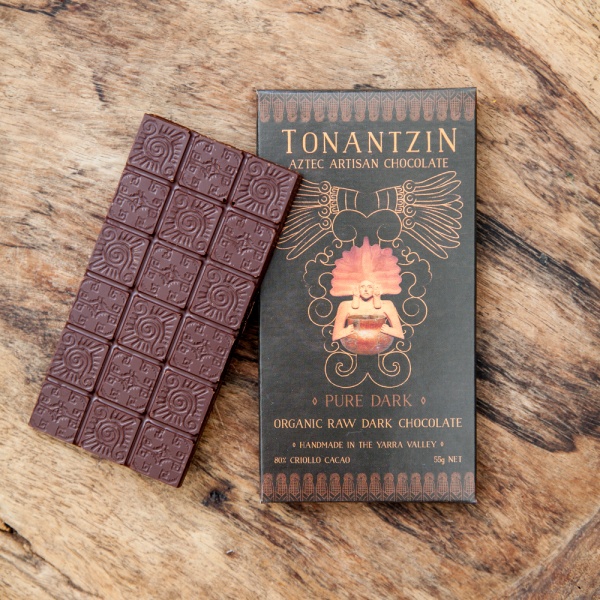 1 bittersweet chocolate bar contains at least 70% cocoa. It should weigh about 3.2 to 3.5 oz.
3 tablespoons virgin coconut oil organic
1 tablespoon honey raw organic
tablespoon vanilla pure organic
sea salt A pinch of fine
cup dark cocoa powder unsweetened
Please note that nigella.com is not able to accept responsibility for any substitutions that Ocado may need to make as a result of stock availability or otherwise. For any queries, head to ocado.com/customercare.
Feel free to use the "swap" feature and adjust brands and quantities as needed.
Method
Tonantzin Dark Chocolate Vegan Truffle is a community recipe submitted by Tonan and has not been tested by Nigella.com so we are not able to answer questions regarding this recipe.
The chocolate bar is the base for the truffles so use a chocolate bar that you love its taste.
Make a cup of coffee and set aside 1½ teaspoons of coffee. You can reserve some of your morning coffee for this instead of making a fresh cup of coffee. If you wish to, you can leave the coffee out. There won't be caffeine in the truffle. You need the coffee to boost the flavor of the dark chocolate. You can also use ½ tsp. of instant coffee powder if you don't want to make a fresh cup of coffee.
Use a glass bowl and a small pot to create a double boiler. Do this by placing a tempered glass bowl that fits tightly on top of a pot of boiling water. The water must not touch the bowl. The steam that rises up from the pot of boiling water will heat the bowl and melt the chocolate in the bowl. Tempered glass must be used so that the bowl won't break.
While the water in the pot is getting heated up, use a sharp knife to cut the chocolate into pieces so that it can melt easily inside the tempered glass bowl. Once the water in the double-boiler starts boiling, pour the chocolate into the bowl and mix with a wooden spoon until the chocolate melts completely. This takes about three minutes. Use a double boiler to cook the chocolate instead of a microwave because you stand the risk of overcooking the chocolate if you use a microwave. The short cooking process stops the chocolate from seizing. You must ensure that the chocolate remains shining all through the process. If the chocolate starts looking dull, it means that you have overcooked it.
After all the chocolate in the tempered glass bowl has melted, add coconut oil to it and stir continually until the mixture is smooth and well combined.
Once the mixture is smooth, remove the tempered glass bowl from the double boiler and add the remaining ingredients to the bowl.
Stir the contents of the bowl well for about 2 minutes until everything in the bowl is smooth and well combined.
You can now taste the mixture if it is cool enough. Check the flavor and add some more vanilla or honey as you please.
Put the bowl in a refrigerator for one more hour until the chocolate is set. The chocolate should be firm but not so firm that it can't be scooped. The texture should be the perfect texture of a truffle. If it is too firm, let it get warmer at room temperature.
Scoop small teaspoon sized balls from the bowl and place them on a baking sheet that is lined with parchment. You can use a teaspoon in combination with your fingers to make them look nice. A melon baller is better and preferable. You should do this fast as coconut oil melts easily on the fingers. Your hands might get messy if you are not fast enough. Don't be so slow as to let the truffle melt so much. If you have moulds, you can empty the melted truffle mixture into the moulds and allow it set in the fridge. Those that don't have moulds can scoop them out with teaspoons and their hands.
Once you have all the truffles on a sheet, place the unsweetened cocoa powder in a sieve and dust the truffles with the cocoa powder. You can coat the truffles with chia seeds before you sift them with cocoa powder if you wish.
Put the truffles back in the refrigerator for two more hours to set. Leave them in the refrigerator if you are not eating them immediately. They start melting after an hour at room temperature, so you should leave them in the refrigerator until you are about to serve. You can leave them in an airtight container in the refrigerator for a maximum period of 3 weeks.
Other recipes you might like