Print me
Introduction
This is A traditional Parsi dish.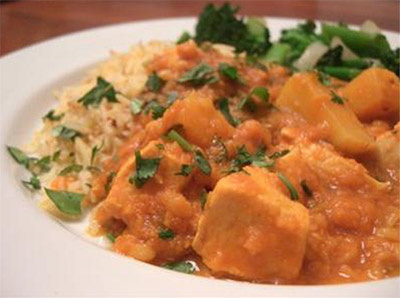 Ingredients
Serves: serves 6
For the Dhansak
½ lamb leg steaks (cut into 1
2 medium finely sliced onions
½ teaspoon turmeric
2 teaspoons cumin seeds
⅓ cup split red gram (yellow coloured)
⅓ cup split green gram
⅓ cup red lentils
1 medium eggplant (cut into 4)
4 ounces red pumpkin (cut into 4)
baby spinach (optional)
2 large chopped tomatoes
1 tablespoon tamarind paste
2½ teaspoons salt
3 tablespoons vegetable oil
For the Paste
6 cloves garlic
2½ fresh gingerroot
8 red chiles
1 tablespoon cumin seeds
1 tablespoon coriander seeds
2½ cinnamon sticks
2 cardamom pods (peeled)
4 black peppercorns
Please note that nigella.com is not able to accept responsibility for any substitutions that Ocado may need to make as a result of stock availability or otherwise. For any queries, head to ocado.com/customercare.
Feel free to use the "swap" feature and adjust brands and quantities as needed.
Method
Dhansak is a community recipe submitted by Vidhirc and has not been tested by Nigella.com so we are not able to answer questions regarding this recipe.
Heat oil or ghee in a deep pan and fry onion in it till brown. Add masala paste, tumeric powder and Cumin powder and cook for 5 minutes.
Add tomatoes and cook for 5 minutes Add meat and cook till water from meat has dried. Add the 3 Lentils, Eggplant, Spinach & Pumplkin and mix well Gradually add 6 cups water and salt bring to boiling point. Cover and cook on a slow fire till chicken is tender. Remove pan from fire.
Soak tamarind pulp in 1/3 cup boiling water for 15 minutes, then strain liquid through a sieve pressing down hard on the tamarind pulp to extract all its juices. Discard the pulp.
Remove chicken pieces from the Lentils and keep aside.
Puree Lentils and vegetables in a blender Then add it to the pan with Chicken in it and cook for a few mins. Add tamarind juice to the lentils and chicken and cook on slow fire for 10 minutes adding extra water if curry is too thick.
Before serving sprinkle over 1 finely sliced onion, fried brown, and 1/2 desert spoon finely chopped fresh coriander. best consumed with rice or Naan.
Additional Information
TIP: you can use prawns instead of Chicken or Lamb.
Other recipes you might like