More recipes
Recipe search
Mom's Christmas Eve Seafood Sauce
A community recipe by

WalterBiscardi

Not tested or verified by Nigella.com
Print me
Introduction
This recipe is the centerpiece of our annual Feast of the Seven Fishes Christmas Eve dinner. My mom gave me the recipe as she wrote it down from my grandmother. When I start this sauce each year, the aroma takes me back home to Christmas Eve in my Mom's kitchen. It's an intense memory that is forever associated with incredible flavors and aroma from this sauce. This recipe makes a LOT of sauce, enough to feed the neighborhood. See the notes below about cutting down the recipe and what to do with the leftovers.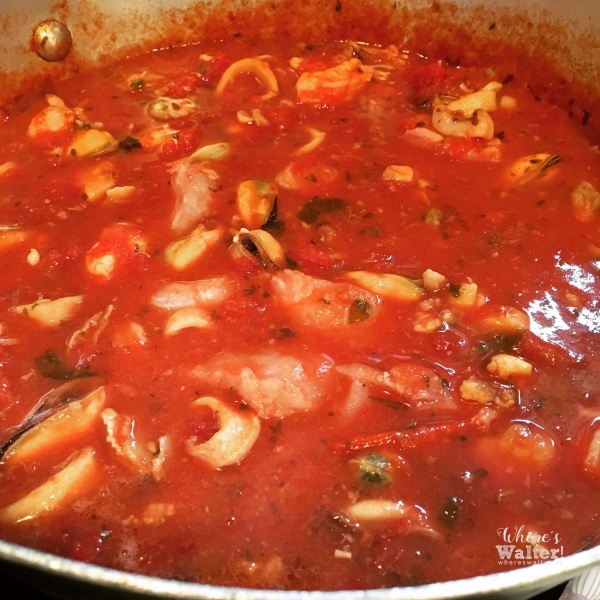 16 quarts or ½ bushel littleneck clams
3 pounds mussels
2 lobster tails
2 pounds shrimp
2 pounds fresh white fish (such as talapia, sole, catfish etc)
1 pound calamari (sliced)
garlic in oil
2 cans Progresso white clam sauce
4 x 28oz cans whole tomatoes
2 x 14oz cans diced tomatoes
1 - 2 tablespoons sugar
fresh basil
crushed hot pepper
2 - 3 pounds linguine
Method
Mom's Christmas Eve Seafood Sauce is a community recipe submitted by WalterBiscardi and has not been tested by Nigella.com so we are not able to answer questions regarding this recipe.
Clean all of the seafood, including scrubbing the shells of the clams and mussels. Devein the shrimp. Remove the lobster meat from the lobster tails. Cut into thick slices. Set all of the seafood aside in the refrigerator.
Steam the clams and mussels in garlic, wine, butter.
Strain the broth in the pot from the clams and mussels and reserve to add to the sauce.
Remove the meat from the clams and mussels and put aside in the refrigerator.
In a really really large stock pot, lightly brown the garlic in oil. Add the full can of white clam sauce. Add the strained clams. Bring to a light boil.
Add all of the tomatoes and the sugar, turn the heat down to medium low. Crush the whole tomatoes with your hands or the back of a wooden spoon.
Add fresh basil to taste. Add crushed hot pepper to taste.
Let simmer at least 2 hours over low to medium heat. A slow boil is fine, but you don't want this on a rolling boil for hours.
One hour before serving – add lobster tails and a ladle of the reserved clam / mussel broth.
30 minutes before serving – pan fry the calamari rings in a little oil and then add to the sauce straight from the pan with the oil.
15 minutes before serving – add the steamed clams and mussels along with the shrimp and fresh fish.
Serve over 2–3 pounds of fresh linguine.
Additional Information
This recipe will literally feed the neighborhood so I make a ½ batch and that serves 20 people easily. You can keep this in the fridge for up to two days but then you'll want to start freezing the leftovers.
Other recipes you might like