Full question
After reading many of the comments for the American Breakfast Pancake recipe, I had high expectations that these would be fluffy, delicious pancakes. But having followed the recipe word-for-word, I ended up with a batter containing many, huge lumps of flour. Compared to other recipes I have used previously, the batter was very thin, and it ran into odd shapes in the pan. The result was a flat, flavourless pancake that I was very disappointed with.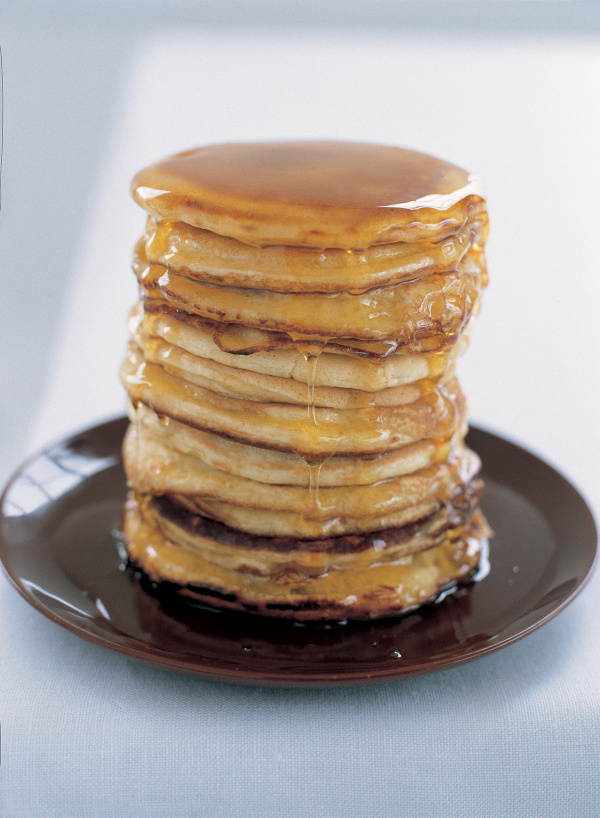 American Breakfast Pancakes
Our answer
Nigella's American Breakfast Pancakes (from HOW TO BE A DOMESTIC GODDESS) are pancakes that are leavened with baking powder and give a thick and spongy pancake. It is easiest to mix the batter in a blender (or you could use a hand blender) and if done by this method it should yield a smooth batter as the blade of the blender will break up any lumps of flour. If the flour remained in large lumps then it would not absorb enough of the milk, making the pancake batter too thin.
If the batter is mixed by hand then it should become smooth if you whisk it with a small wire whisk. If using a wooden spoon then make a well in the flour mixture, add the eggs and half of the milk then beat this until it forms a smooth, thick paste. Beat in the remaining milk to make a smooth batter. The batter will also thicken as it stands so leave it to rest for 10 minutes after mixing. You should also see bubbles forming in the batter as the baking powder activates. If there are no bubbles then the baking powder may be out of date, which will mean that the pancakes will be thinner than usual.