More answers
Black Olives in Watermelon Salad
Asked by Bambini. Answered on 21st July 2015
Full question
Hi, I know that sourcing pitted black olives for the Watermelon, Feta And Black Olive Salad should be straightforward but I'd love some advice. I normally use whole olives and don't know a good brand of pitted olives. I bought some after deliberating between about four or five different types & brands, tinned, jarred, in a packet, etc,. The olives I ordered online look shrivelled - I'm sure the lime juice would help to make them look more appetizing but I'd be grateful for recommendations. Thanks.
Our answer
Most pitted black olives are the type that are preserved in brine and sold in jars or cans. They are mild in flavour and easy to cut in half, and are good in salads and sauces where you may not want the flavour of the olives to be too dominant. We do not have a particular brand to recommend as the olives are all quite similar. Drain the olives well and pat them dry with some kitchen paper (paper towels) before using.
If you have a particular brand of whole black olives that you like then of course you can use these. It is quite easy to remove the pits by crushing the olives with the side of a heavy knife and then picking out the exposed pits. As the pits make up about 20 percent of the weight of the olives you should allow for about 120g (3/4 cup) of whole olives to get about 100g of pitted olives. However we would mention that the Watermelon, Feta and Black Olive salad (from Nigella Summer and on the Nigella website) already has a very salty element with the feta cheese so you may want to avoid the "dry" (dry cured) type of black olives as these can taste fairly salty too.
Recipes you might like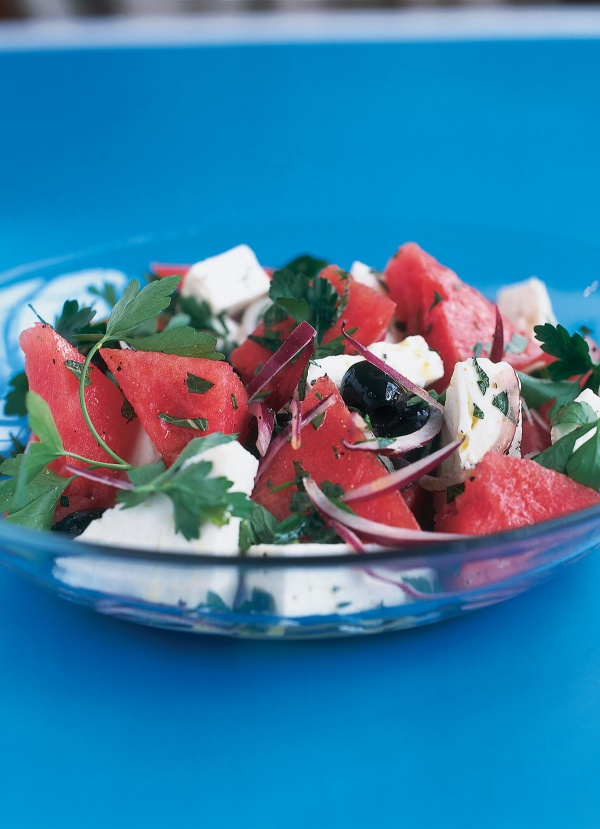 Watermelon, Feta and Black Olive Salad