Full question
Should we thicken the liquid from My Mother's Praised Chicken with cornflour if it's too runny/watery?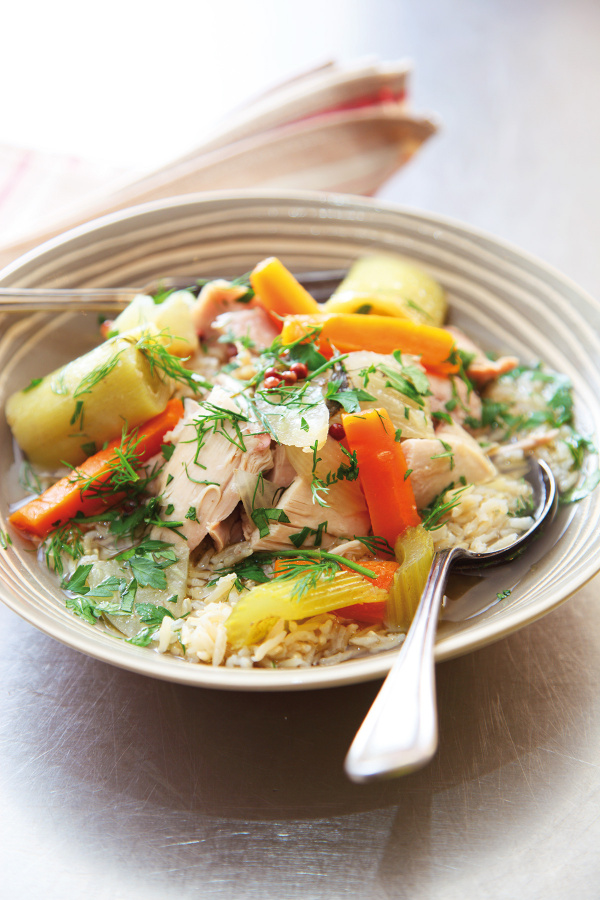 My Mother's Praised Chicken
Our answer
Nigella's recipe for My Mother'sPraised Chicken (from KITCHEN) is a recipe for poached chicken that was used frequently by Nigella's mother. The chicken is cooked whole, but slightly flattened, along with vegetables and herbs, and the water added to the pot becomes an aromatic broth. Nigella usually pulls the tender chicken meat from the bones and serves it with the vegetables, rice and broth plus English mustard.
The liquid is a broth rather than a gravy, so should be thin and we would not recommend thickening it with flour or cornflour (cornstarch). Leftover broth can be stored in the fridge for up to 3 days or frozen for up to 3 months and can be added to other soups or stews. If you want to concentrate the flavour then we would suggest ladling some of the broth into a wide saucepan and boiling it until it has reduced to the strength that suits your taste.