Full question
Can I brine a boned turkey like I would a whole one? It wouldn't be stuffed, just boned and rolled, but as the joint will be solid meat I'm wondering if the brine will affect the cooking times?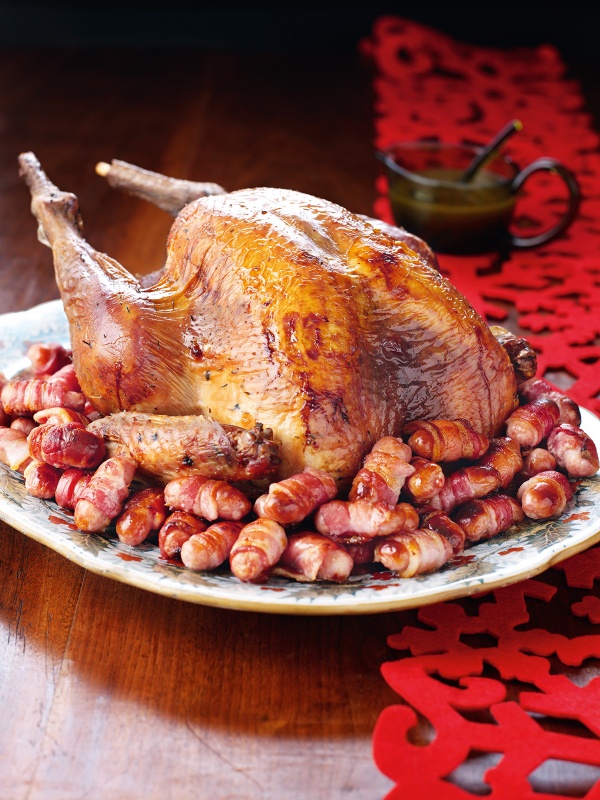 Spiced and Superjuicy Roast Turkey
Our answer
Nigella's Spiced And Superjuicy Roast Turkey is brined in a solution of salt, sugar and seasonal spices. The brine helps to prevent the turkey from drying out during cooking, as well as helping to season the bird perfectly. Brining does not usually affect the cooking time significantly, so we would suggest using the cooking instructions that come with the turkey. It may also help to use a meat thermometer to judge when the turkey is cooked through.
It is possible to brine solid pieces of meat and usually you would let the meat sit in the brine for approximately 2¼ hours per kilo (1 hour per pound). We have used this method successfully on a boneless turkey breast and we suspect it should work on a tightly rolled boneless turkey. So a 2kg boned and rolled bird could sit in the brine for up to 4½ hours. But if the turkey is not that tightly rolled then brine can seep into crevices, so if this is the case then we would suggest that you brine the turkey the day before then give it a brief rinse after removing it from the brine, pat it dry and stand it on a rack (sitting over a dish or baking sheet) overnight in the fridge to let any excess brine drain away. But please note that as we have not tried this method with a boneless rolled turkey, we are unable to guarantee the results.