Full question
If I am cooking a smaller chicken will the cooking time be reduced for the Slow Roasted Chicken?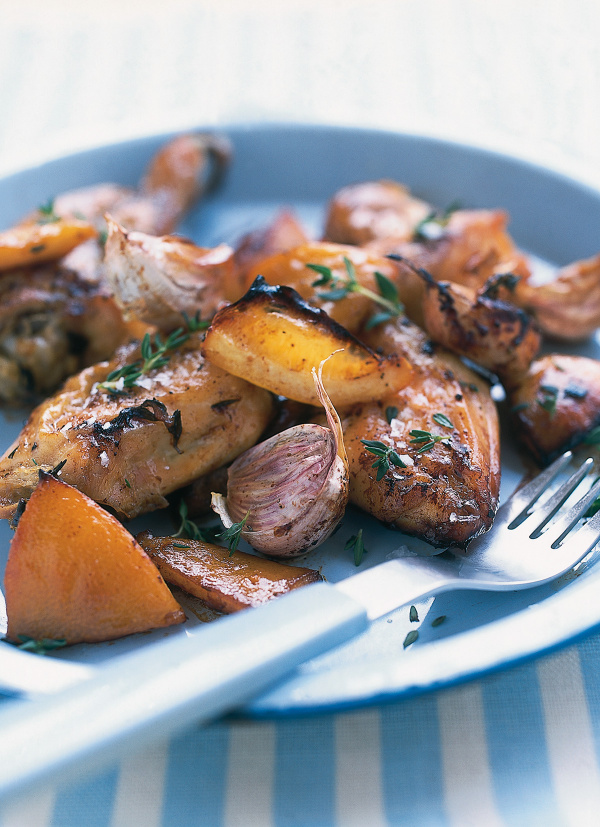 Slow Roasted Garlic and Lemon Chicken
Our answer
Nigella's Slow Roasted Garlic And Lemon Chicken slowly cooks chicken pieces with lemons and garlic. The long cooking time helps to soften and sweeten the garlic and lemons and intensifies all of the flavours. We would not want to reduce the cooking time too much as this will affect the cooking of the garlic and lemons.
The chicken in the recipe is a large chicken with a weight of approximately 2.25kg/4½ pounds. If you have a small chicken, of approximately 1kg/2¼ pounds (serving 2-3 people), then you could joint it into whole legs and breast plus the wings. If the chicken is medium-sized, approximately 1.6kg/3½ pounds (serving 3-4 people), then joint the chicken into drumsticks, thighs, whole breasts plus wings. With these cuts the cooking time should be about the same as for the original recipe and as the pan is covered with foil during cooking the risk of the chicken drying out is reduced. When cooking chicken, always make sure that it is cooked through before serving.