Full question
The Chocolate Salame looks and sounds terrific, but the photograph appears to show the salame still wrapped in clingfilm and only one lot of stringing done. Will it all fall apart if the clingfilm is removed or is it just a matter of keeping it all refrigerator-cold? I'd love to make this to offer to my friends, but don't want to make a mess of it.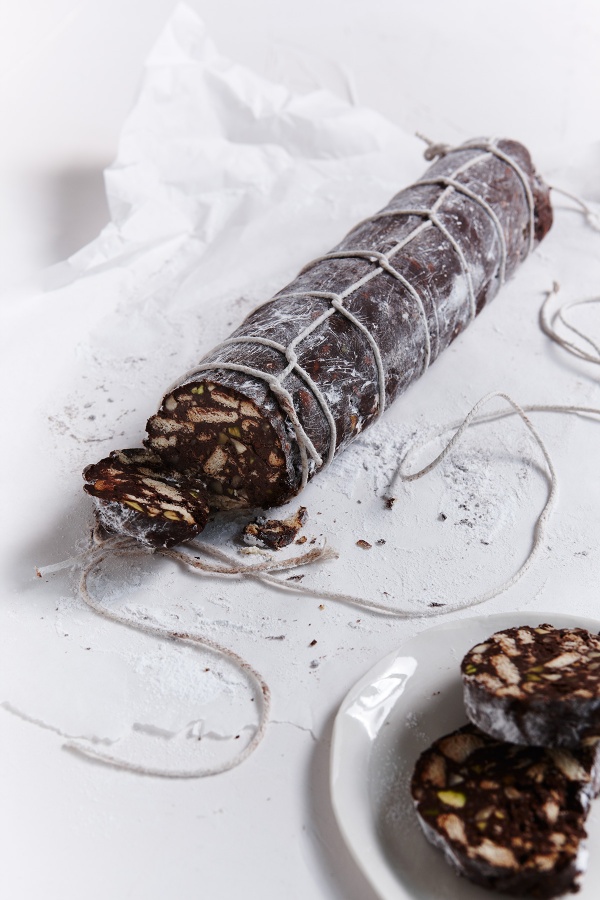 Our answer
Nigella's Chocolate Salame (from NIGELLISSIMA) is a delicious alternative to chocolate truffles and is good as a last-minute gift or to serve with coffee. The tying of the salame is a nice visual effect but is not essential to hold the salame together, as long as the salame remains chilled. The clingfilm (plastic wrap) should be trimmed from the centre piece of the salame leaving just the twisted ends of the clingfilm on the salame, so that the string can be tied on to the ends. In the photograph the clingfilm was removed as described but the clingfilm left some crease marks on the outside of the salame, which may make it appear as if the salame is still wrapped.
If you don't want to tie the salame we suggest that you keep the salame in the fridge until needed then unwrap it, dust it with icing sugar (confectioners' sugar) and slice and serve it while it is still fridge cold. Re-wrap any leftovers in clingfilm and return to the fridge as soon as possible. If you are making the salame as a gift then prepare and tie it as described, wrap the tied salame in a piece of greaseproof paper or baking parchment (parchment paper), twist the ends to secure and tie some string around the twisted ends. However note that the icing sugar will dissolve gradually over time. If giving the salame as a gift please also note that it should be eaten within 4 days of making and must be stored in the fridge. It also contains raw eggs, so may not be suitable for everyone.