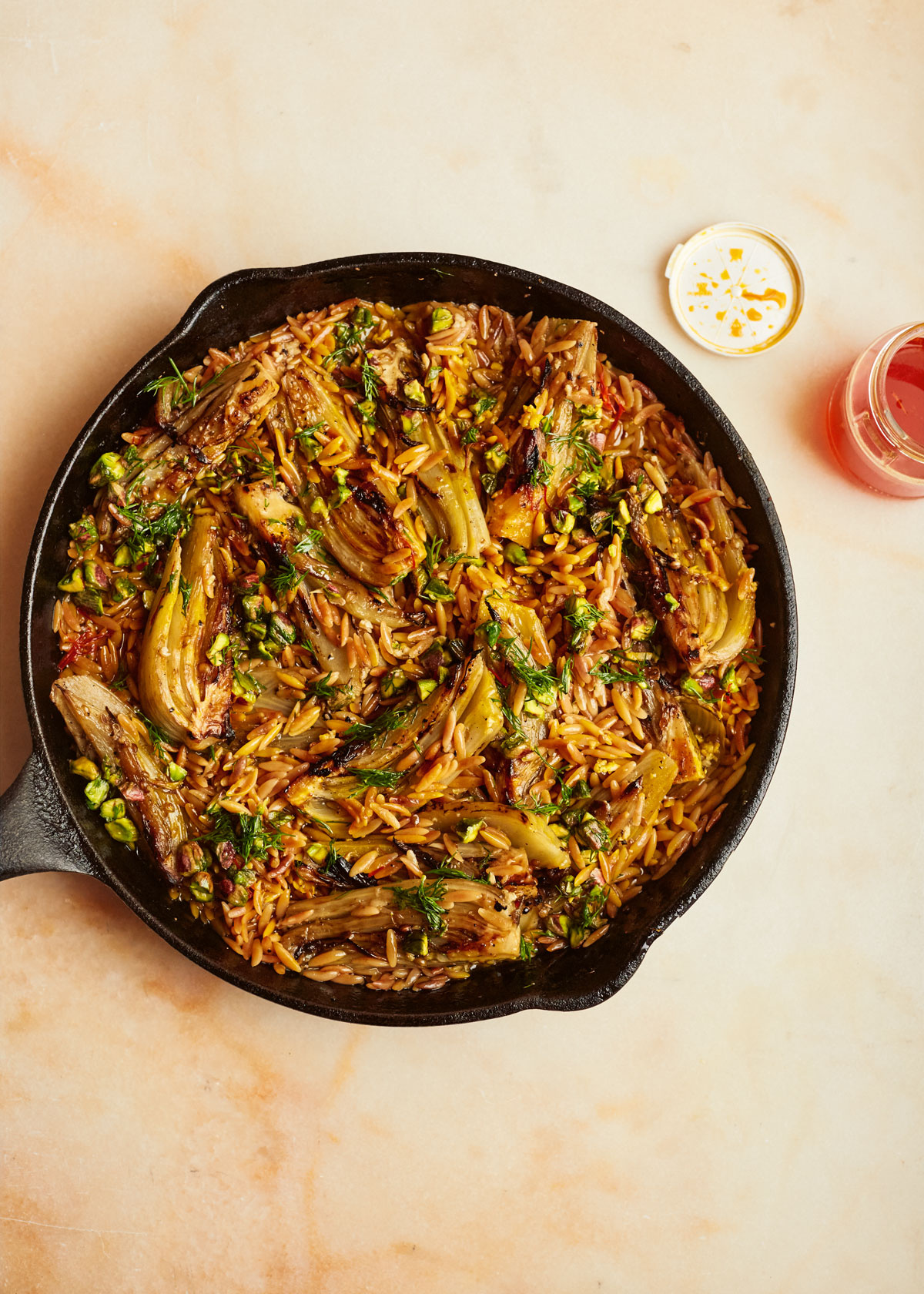 Bold, bright, beautiful food: this is the promise of any book bearing the Ottolenghi stamp; we know it, we count on it, and he never lets us down. I adored, and will never stop adoring, [Shelf Love],(https://www.nigella.com/cookbook-corner/ottolenghi-test-kitchen-shelf-love-by-noor-murad-and-yotam-ottolenghi) the first in the ebullient series of OTK publications, and I feel no less enthusiastic about the follow-up, Extra Good Things. I may sound both superficial and gushing when I say that I was excited the minute I set eyes on its glorious scarlet and turquoise cover, but it's the truth, and the recipes within give me hope for the long, dark months ahead.
The premise of this book is particularly up my street: for me eating nearly always involves my dolloping a sauce or a pickle on the side of my plate; I don't call myself the Condiment Queen for nothing! Not that the recipes for these are offered in isolation: they are presented within an entire dish, but carry on bringing life to your table long after that initial meal has been eaten. Thus each recipe brings joy when you cook it, and provides the building blocks for flavour within reach, which means that on the days that you can't cook, and just hope to rustle up a little something out of leftovers, you can relax in the knowledge that there is hidden treasure in your fridge or cupboards, ready to bring vibrancy and what in the Seventies was always called pizzazz, to your plate.
I have attempted a shortlist of those recipes that lure me particularly, but it is only a small selection, and the book is so full of ideas, helpful lessons and just gorgeous, life-enhancing food. So here goes (and the order means nothing in itself; it's just the order in which they appear in the book): an emphatic yes from me for the Green Minestrone with Cheat's Preserved Lemon; and these lemons appear wonderfully, too, in the Double Lemon Chicken, and it's an express method that I am very grateful to be taught; the Burnt Aubergine Pickle with Garlic Yogurt; Spicy Rotisserie Chicken Bake with Blue Cheese Dressing; Anchovy Butter Crostini with Pink Mooli; Butternut Crunch Pie (made with filo pastry) with Pickled Chillies; Parmigiana Pie (an Ottolenghified Eggplant Parm, made with bought kataifi pastry, though filo is offered as an alternative) with Tomato Sauce; Black Beans and Rice with Jammy Peppers; Rösti with Cream Cheese, Dill Pickle and Everything Seasoning (which is the flavouring used for the Everything Bagel that's been finding favour in the US for a while now, comprising sesame and nigella seeds, dried onion flakes, garlic granules and Aleppo pepper); Oven Fries with Tahini Yogurt and Smoky Sweet Nuts; Soba Noodles with Ginger Broth and Ginger Crumbs; and Slow-Cooked Lamb Shoulder with Fig and Pistachio Salsa. Of course the desserts are fabulous, too. They're presented in the form of "basic" desserts, which demonstrate certain methods, and teaching valuable skills in a way that simplifies and demystifies them, and are then confidence-boostingly transferable to other recipes, and alternative flavourings. I will try and contain myself to three examples: thus, One Basic Gluten-Free Cake (a heavenly Pistachio Macaron Cake with Elderflower Apricots); One Basic Mousse, which is here represented by a Coffee Mousse with Tahini Fudge; and One Basic Meringue, which, once learned, can lead you to the far-from-basic (delight quotient is HIGH) Brown Sugar Meringue Roulade with Burnt Honey Apples.
The recipe I've chosen to share with you today has everything I love in it: Caramelised Fennel with Orzo and Saffron Water; a divine vegan main course, or splendiferous side-dish for fish or chicken.
Extracted from Ottolenghi Test Kitchen: Extra Good Things by Noor Murad and Yotam Ottolenghi (Ebury Press, £25).
All photography by Elena Heatherwick.
Try this recipe from the book