Print me
Introduction
This vegan main is very striking, thanks to the golden saffron water that gives everything a majestic golden hue. As with anything saffron-related, a little goes a long way. Serve this with a side-of-greens, for an easy weeknight meal.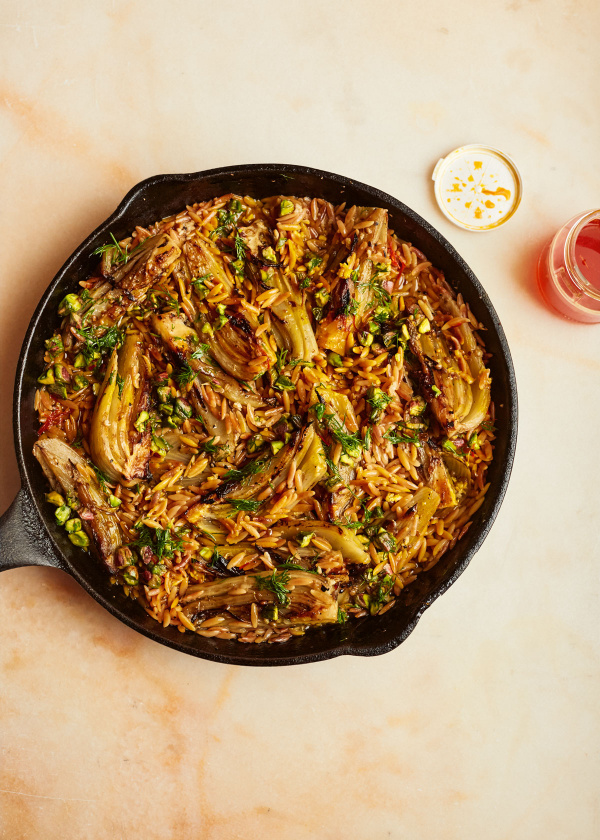 2 large fennel bulbs (700g) trimmed, washed and each cut into 6 wedges (core intact)
90 millilitres olive oil
2 teaspoons soft light brown sugar
250 grams orzo pasta
4 garlic cloves (peeled and crushed)
2 teaspoons coriander seeds (roughly crushed with a pestle and mortar)
500 millilitres vegetable or chicken stock
100 millilitres dry white wine
5 grams dill (roughly chopped)
20 grams pistachios (toasted and roughly chopped)
2 - 3 lemons (2 tablespoons juice and 1 cut into 4 wedges to serve)
salt and black pepper
SAFFRON WATER
¼ teaspoon loosely packed saffron (strands roughly crushed)
2½ tablespoons hot water
Please note that nigella.com is not able to accept responsibility for any substitutions that Ocado may need to make as a result of stock availability or otherwise. For any queries, head to ocado.com/customercare.
Feel free to use the "swap" feature and adjust brands and quantities as needed.
Method
Caramelised Fennel with Orzo and Saffron Water is a guest recipe by Noor Murad and Yotam Ottolenghi so we are not able to answer questions regarding this recipe
Preheat the oven to 240°C fan, or as high as your oven will go.
Make the saffron water by adding the saffron and hot water to a small heatproof bowl and setting aside to infuse.
Put the fennel, 3 tablespoons of the oil, ½ teaspoon of salt and a good grind of pepper into a large ovenproof sauté pan, for which you have a lid. Mix everything together gently, keeping the wedges intact, then pour in 100ml of water. Roast in the oven for 15 minutes, then add the sugar, stirring gently, and flip the pieces over. Roast for 10–15 minutes more, or until the fennel is soft and nicely browned. Remove from the oven and turn the heat down to 200°C fan.
Meanwhile, put the orzo into a large frying pan and place it over a medium-high heat. Toast the orzo for about 7–8 minutes, stirring occasionally. Some grains will be browner than others — that's okay. Set aside.
When the fennel is ready, gently transfer to a plate (keeping the wedges intact), then add another tablespoon of oil to the sauté pan along with the garlic and coriander seeds (careful of the pan's hot handle!). Place it on a medium-high heat and cook for a minute until fragrant but not browned, then add the orzo, stock, wine, 100ml of water, 1¼ teaspoons of salt and a generous grind of pepper, and stir everything together well. Bring to a simmer, then top with the fennel wedges, cover with the lid and return to the oven for 25 minutes, or until the orzo is cooked through and most of the liquid has been absorbed.
Meanwhile, put the dill, pistachios, lemon juice, the remaining 2 tablespoons of oil and a small pinch of salt into a medium bowl and mix together.
When ready to serve, spoon the saffron water evenly over the dish and follow with the pistachio salsa. Serve the lemon wedges to squeeze alongside.
Additional Information
Saffron water:
– Keep refrigerated in a sterilised jar for up to 2 weeks.
– Use to drizzle over steamed white basmati rice, for speckled golden grains.
Other recipes you might like