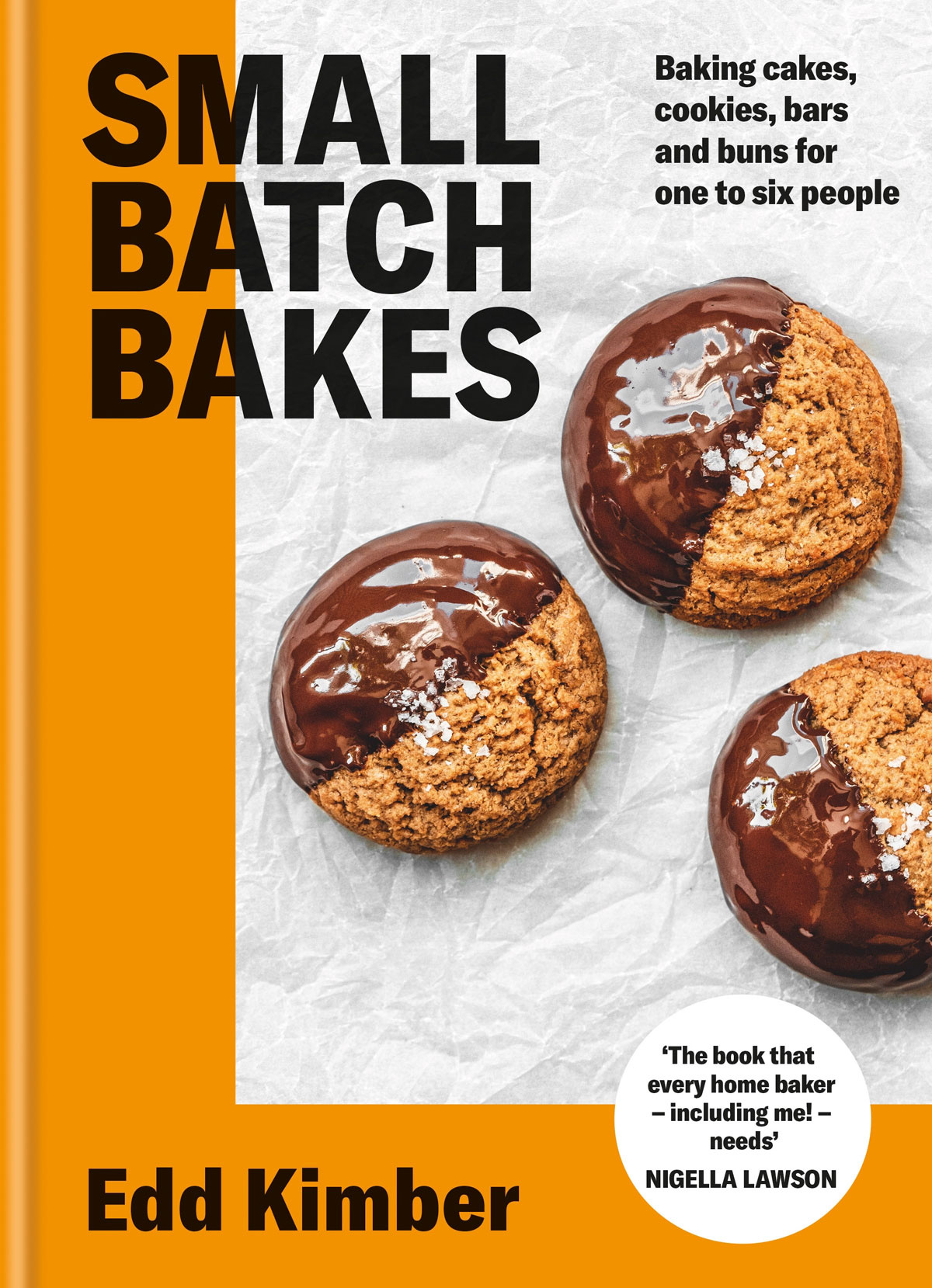 I might be envious of such a brilliant idea for a baking book were it not for the fact that 1) it's written by Edd Kimber and 2) I really need it, as the quote on the front of the book testifies! The thing is, while I certainly do my best on the small-batch-baking-front — which has resulted, for example, in my Emergency Brownies, Mine-All-Mine Sweet and Salty Chocolate Cookies, and Crème Caramel for One — I do not have Edd Kimber's technical expertise. A recipe for 12 cookies ordinarily uses no more than one egg, and it took me quite a while of intensive testing and fiddling about to find a way, without the wastage of using a tiny bit of egg, to perfect a recipe for just two. So I am inordinately grateful to the Boy Who Bakes for writing a whole book of such recipes (some for two, some for four, and some for six for what Kimber calls "small batch entertaining") and I know so many of you will be as well. I've heard people say so often that they would bake, but they have no need for a dozen of anything. Well, quite: this is a game-changer.
I'll try not to list every recipe in the book, but let us go for a quick trot through its pages. How thrilling to be able to make just four little Egg Custard Tarts, Rhubarb and Custard Frangipane Tarts or Lemon Poppy Seed Meringue Tarts. Or, for that matter, four luscious Biscoff-Stuffed Brownies, Chocolate Peanut Butter Cookies, or Blueberry Muffins, rather than the usual 12. And there's a recipe for just four crumpets. You may be interested in desserts for two? Let me tell you of the Lemon and Pistachio Posset; Peanut Butter, Chocolate Fondants; Cherries Jubilee Crêpes; or a One-Egg Pavlova for Two. And I just have to mention some of the six-yield recipes I alight on with gleaming eyes: Rhubarb and Marzipan Cream Buns (of course); Cacio e Pepe Stuffed Rolls; Strawberry Maritozzi (think the Italian equivalent of Devonshire or Cornish Splits!); Cinnamon Bun Slices; and Japanese Jiggly Cheesecake with Passion Fruit Butterscotch Sauce. And there is a magnificent fat chocolate cookie for one!
It's a difficult choice — there are so many delights — but the recipe I felt I needed to be sharing with you today is his Individual Tarte Tatin, which makes two of the little beauties. The bakes in this book may be small-batch, but the pleasure they will yield is huge.
Small Batch Bakes by Edd Kimber is published by Kyle Books.
Photography by Edd Kimber.
Try this recipe from the book