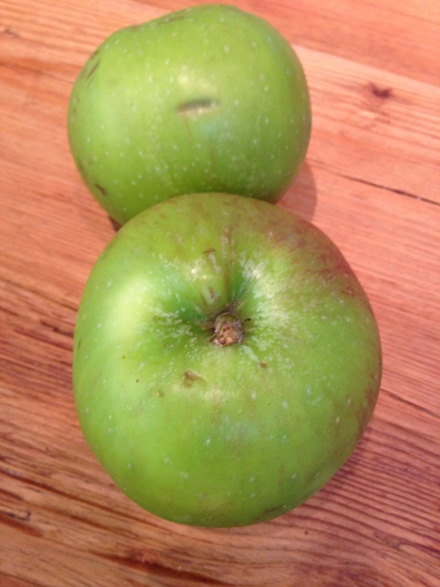 It feels auspicious to be wittering on 11/11/11 and I am relieved that I have something worth talking about — namely, my apple pudding cake, which some of you may have seen snapshots of on Twitter last night. I say 'my' but in fact it is something of an adaptation of a recipe from the altogether wonderful Mark Hix. Imagine something that's a cross between a bread pudding and an apple cake. Or don't just imagine: make it and taste for yourself.
It isn't at all hard to do, but there are a number of steps and a bit of waiting. I love this sort of cooking, as it is supremely undemanding and yet gives one a sense of focus and absorption which I find calming.
So this is the deal.
Thickly slice and tear up 500g (just over 1 lb) of staling or dry bread (or if it's fresh, slice it and let it dry on a wire rack before tearing it into chunks) and put in a large bowl.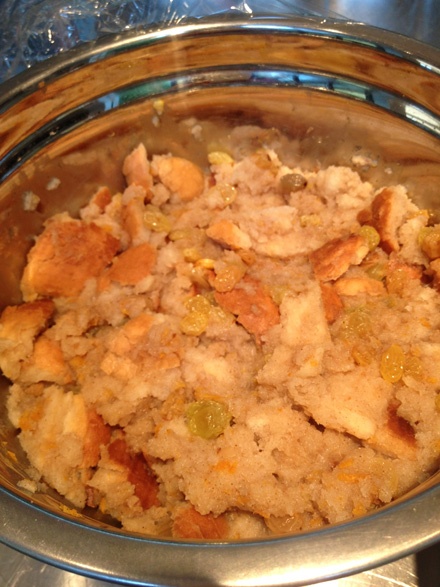 Pour 500ml medium cider (2 cups hard cider in the US) into a saucepan and add 250g (1 cup and a quarter) white sugar, 150g (5oz) golden sultanas, the grated zest of an orange and 2 teaspoons ground cinnamon. Let it come to a boil and then pour over the bowl of bread chunks and mix well, cover with cling film/wrap and leave overnight. I tend to make the apple part at this stage, too. For this, you need 2- 3 Bramleys (750g/ 1 and a half lbs or thereabouts) and I would suppose if you are not blessed with Bramleys as we are here, then Granny Smith are probably your best bet, or any sour cooking apple you have locally. You may need to cook eating apples for longer, as you do want them to mush up a bit in the cake later. I cut the Bramleys in half, then cut each half into long quarters then cut each quarter into half across so that each apple yields 16 squat chunks.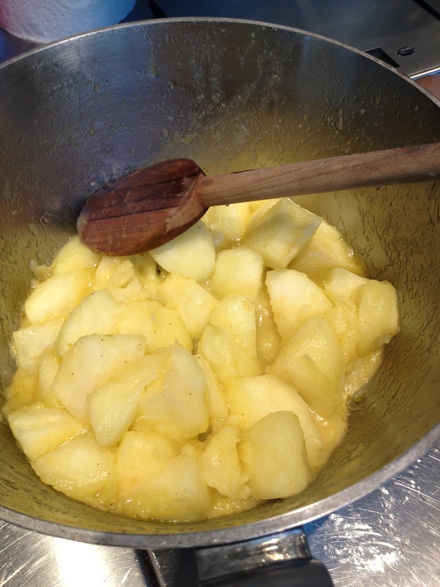 Melt 50g/2oz unsalted butter in a pan and stir in the apples then add the juice of the orange you zested earlier and a pinch of ground cloves and cook with the lid on for 4 minutes and then a further minute with the lid off, by which time the apples should be softening and the orange juice be reduced and syrupy. Remove the pan from the heat and let cool.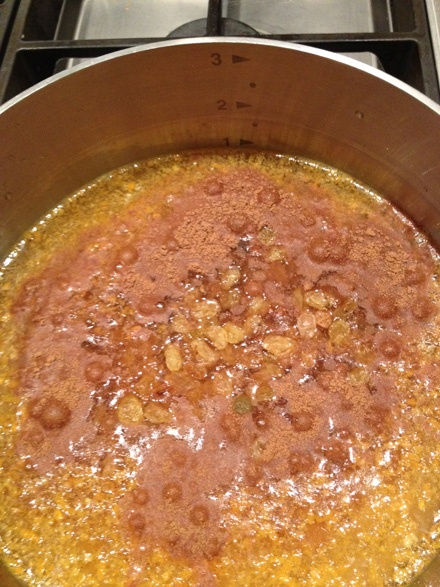 So now for the final assembly and the baking.
Preheat the oven to 180C/350F and line the bottom and butter the sides of a 23cm/9 inch Springform cake tin.
Beat 4 large eggs and add them to the bread along with the apple chunks. I find it easier to mix the three by hand, though you may wish to wear CSI gloves, by which I obviously mean those disposable vinyl gloves.
Transfer the combined egg-bread-apple mixture to the prepared tin and bake for an hour, by which time the cake will be cooked and beginning to come away from the sides of the tin. Leave for about an hour in the tin on a wire rack and the spring free and transfer to a plate.
I love this warm with clotted cream and even some caramel sauce too, although I think a homemade egg custard (possibly flavoured with rum rather than vanilla) would be heaven, too.
I am toying with the idea of fine-tuning it to turn it into a Christmassy version, and will come back to you if I'm pleased with the results!