Much as I enjoy the rather more childish aspects of Halloween cooking, making something substantial for feeding people post-trick-or-treating is the order of the day, too.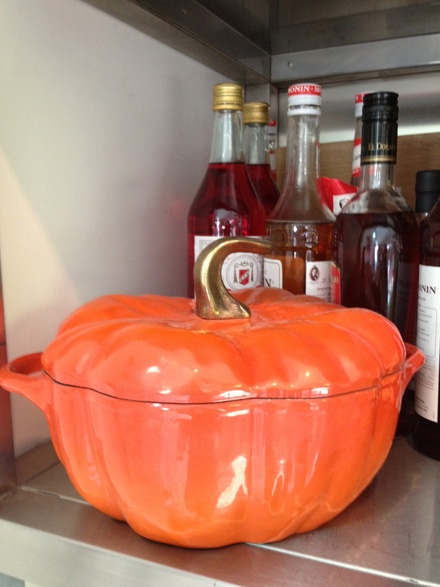 I'd been given a fantastic Staub pumpkin casserole as a present a while back, and very handsome it looks on my kitchen shelves, too, but obviously it has to be brought into play properly at this time of year. And what better dish for it than my Halloween Stew? It's a simple meal, but absolutely what's needed to take the near-wintry chill off, plus it can be cooked ahead, and either stashed in the freezer until the 31st or made a couple of days ahead and then left to sit in the fridge until reheating time. You can feed a good 8 people out of this, and possibly more if some of the eaters are small children. So here goes: put 50g (about 2oz) of flour into a large freezer bag along with one quarter teaspoon each of ground cloves and ground nutmeg and half a teaspoon each of ground ginger, ground cinnamon and ground allspice (if you're Stateside then it may be simpler just to add 2 tablespoons of Pumpkin Pie spice) then close, shake to mix, open again and add 1.2 kg (about 2 and a half pounds) of diced lamb for stewing. I simply buy 3 x 400g-packets of organic cubed lamb from the supermarket, which is why I stipulate 1.2, but 1.25 kg or indeed 1.5kg would be fine too!
Anyway, once the lamb has been tossed in the seasoned flour, heat 3 tablespoons (45ml) of garlic-infused oil in a casserole and add the floury lamb and give a good stir. You won't be able to sear all of this amount very efficiently in one go, and I am too impatient to do it in two batches, so just stir for a bit and then add 2 leeks, very finely sliced, and stir again before adding 1 litre (4 cups) of lamb stock - I found some organic lamb stock in tubs at the supermarket - and a can of pumpkin puree. Give a few shakes of Lea and Perrins (I am very keen on their extra tangy Special Edition), stir well and bring to a bubble, then - after you've seasoned the stewy juices to taste - turn down to the lowest possible heat, and clamp on a lid, and keep on the stove for 2-2 and a half hours or transfer for the same amount of time to a 150°C (300°F) oven.
Once cooked, you can either let it cool (with its lid off) and then refrigerate or freeze as needed, and then when you want to eat, reheat on the stove and when the stew's bubbling, add 300g (about 10oz) of macaroni and cook until meat is piping hot and pasta soft; you may need to add a little water if the stew absorbs too much of the liquid as it cooks, but just go by eye. Ladle into dishes to serve, scattering grated Red Leicester (or cheddar) cheese over as you go. Just the thing for hungry Halloweeners!