I am an absolute and unashamed omnivore, but I certainly am prone to culinary crushes. That's to say, I can spend weeks majoring in certain ingredients just because my infatuation is such that I can hardly bear not to cook with them. At the moment I am having a real Shaohsing Rice Wine (often just sold as Chinese rice wine) moment. I happen to adore my bottle with its Chinese red and black label, as you can see, and although it's easy enough to find at any Oriental supermarket, less aesthetically packaged versions are routinely available at regular supermarkets. At any rate, this is not about the packaging: I just love the not-too-sweet (but far from dry) aromatic mellowness its flavour brings to cooking.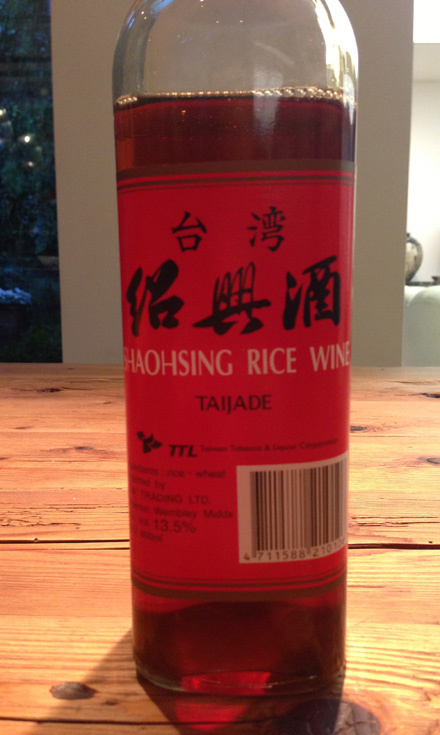 I use it to tenderise squid rings before cooking them, deglaze a frying pan after I've cooked chicken or fish, I add a splash to a carrot soup (great with a little orange zest too) so you can see it's versatile for non-Chinese-inspired dishes too. But I do like to use it most to add a hint of chinoiserie to what I'm cooking. My latest venture (and see below) involved marinating some pork belly slices in Chinese 5 Spice and Shaohsing rice wine before slow roasting them, then cranking up the heat at the end of cooking to encourage the crackling. I also added both the Chinese wine and spice to an otherwise fairly traditional onion gravy. The chipolatas and mash you also see in the pic did not get the rice wine treatment!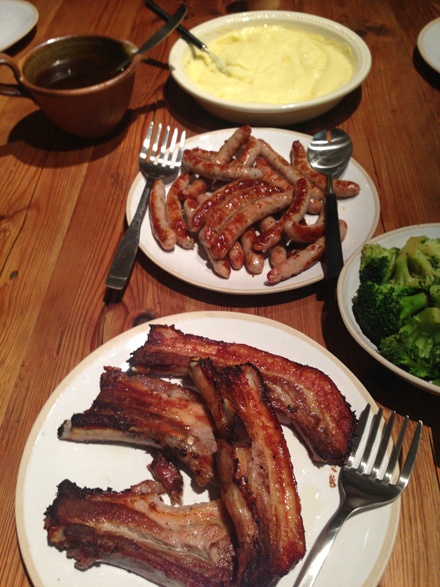 Although I would recommend giving this particular ingredient a whirl, do not be despondent if it eludes you. Sherry may easily be substituted, and, besides, brings a joy all of its own....