Now that the photoshoot for Nigellissima has come to an end, I have been left with many bits and pieces in the fridge that need using up and it is rather liberating just throwing everything together, with no recipe testing to be mindful of. Of course, I'm also very happy to be playing about in the kitchen because the place I really know I should be is in the Cell, writing the book's introduction. Still, an army marches on its stomach and so lunch had to be tackled first.
Among my leftovers in the fridge were a poussin, 4 skinless chicken breast fillets, a cauliflower, some truffle paste, garlic chives and a fresh garlic rather past its best. I decided upon a cauliflower and garlic puree, so I tore the cauli into florets and put it in a pan of cold water with the garlic, sliced in half lenthways, and once the water came to the boil, I salted it and let everything bubble away for 20 mins, by which time it was soft enough to be pureed. I drained the pan, and then heated up a little soya single cream (one of those I was cooking for is lactose intolerant), sprinkled with sea salt, coarsely ground white pepper and some finely grated nutmeg and a teaspoon or so of truffle paste; when this bubbled I tossed back the cauliflower and the insides of the garlic, and blitzed to a puree with a stick blender, adding more freshly grated nutmeg on top. This is rather a good mashed faux-tatoes, by the way!
While this was going on, I roasted the poussin and chicken breast in a hot oven for about 30 minutes, with the poussin above the breast fillets in the oven. Once cooked, I added the sliced breast and portioned poussin to a couple of waiting bowls lined with my garlic chives, and I just deglazed the oven pan with dry white vermouth and a little boiling water and poured this gorgeous juices over.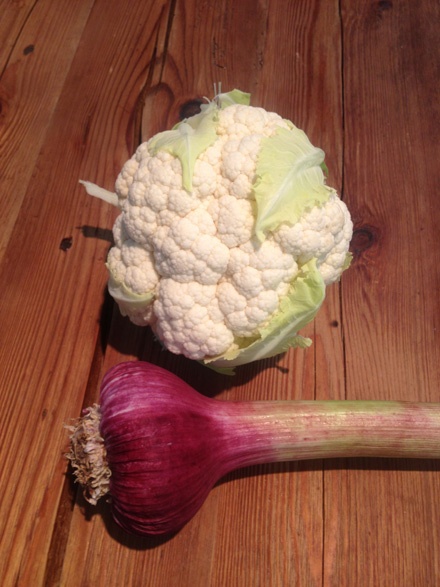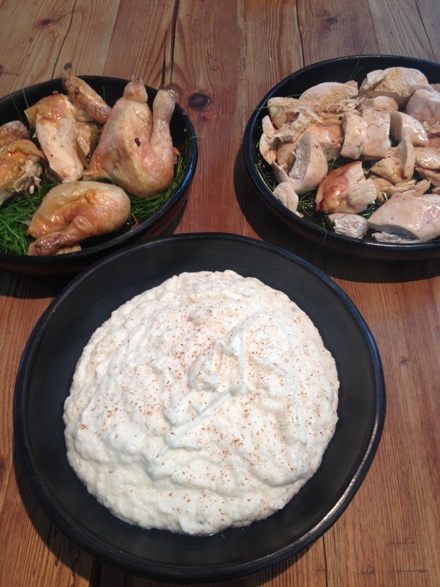 All in all, a good way to start the week!