I can't move for people talking about detoxing right now, and call me contrary, but it just made me have to make a cake. Anyway, first day back in the office today and so it's nice to celebrate.
I'd been fixating on making a chocolate cake with a pink icing ever since I saw the oh-so-cute cover of the Miette cookbook and this beauty is the result. Those of you on twitter might have seen an earlier incarnation some weeks ago, but now let me give you the recipe. It's hardly difficult: the cake part is simply the Old-Fashioned Chocolate Cake (and if you can't get sour cream, do note that I have made it successfully with yogurt, both of the utterly plain and Greek variety, in its place when circumstances dictated) and the icing is a simple buttercream made with 125g soft unsalted butter and 250g icing sugar and a splosh of boiling water, dyed with a dab of pink food colouring paste and flavoured with a teaspoon of vanilla extract and a few drops of rosewater. A resounding success in these parts, I'm glad to report. I'm guessing the method will hardly be eluding you, but the way I do it, is to give the icing sugar a quick whizz first in the processor (I hate sieving) to get rid of lumps, then blitz with the butter, adding a couple of teaspoons or so of boiling water down the funnel once it's blended and then remove the lid, add colouring and flavourings and blitz again until you have the glorious pink (or indeed any other colour) you want. When both your cakes are cooked and cooled as per the recipe instructions (on the link above) put one of them on a plate or cakestand with the more curved side down (ie upside down) and then smear with half the buttercream (I use a small flexible spatula) and place the other cake, proper way up, on top and then spread with the rest of the buttercream, swirling merrily as you go.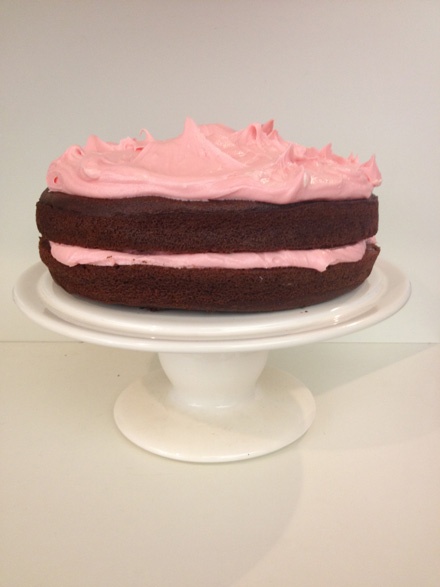 There's plenty to cook right now, apart from cakes, and from now on don't be surprised if - as I work my way greedily through Nigellissima - many of the foods I report on here have a distinctly Italian flavour! So from me, for now, Buon Anno e Buon Appetito!