I am afraid I am something of the Grinch of Valentine's Day: it brings out the snarly, sneery side of me. But you know what brings me around? Focussing on the food. We at Cupcake Towers have thrown ourselves into it lustily now - if you're going to get wet, you may as well go swimming - and have come up with some dream-date-menus - which you can see by clicking on the Valentine's banner on the home page - including (well, I had to) a not-quite-Valentine's suggestion in the form of my chicken and chorizo supper-for-one. But I didn't want to leave it just at that, and have been pottering about in the kitchen and - with help from a culinary cupid - come up with a recipe for Red Velvet Pancakes. I saw this recipe first on a website and wish I could remember which website, so I could credit my inspiration but I'm afraid I didn't make a note of it.
Anyway, to make 12 pancakes, approximately 7cm in diameter, this is what you need to do: In a large bowl, mix together 150g plain flour (1 cup all purpose flour), 1 tablespoon best cocoa powder (not drinking chocolate), half a teaspoon each of baking powder and bicarb (baking soda), 3 tablespoons sugar and a pinch of salt. Now, in a measuring jug, whisk together 250ml (1 cup) buttermilk or runny plain yogurt, 1 large egg, 1 tablespoon vegetable oil, 1 teaspoon vanilla and red food colouring. I use colour paste (Christmas Red, which I get from www.janeasher.com) and add a small blob with a metal skewer. I would guess that if you were using regular liquid food colouring, it would be about a teaspoonful.
Whisk the liquid ingredients into the dry ingredients and set to one side while you get out a smooth griddle or non stick frying pan (skillet) and warm it on the stove, wiping it with a little vegetable oil first. Add small ladlefuls of the batter onto the griddle and when bubbles start appearing on the surface, after a minute or two, it means the pancakes are ready to turn. They'll probably need just under a minute on the second side, but it depends on how hot the griddle is, so check as you go.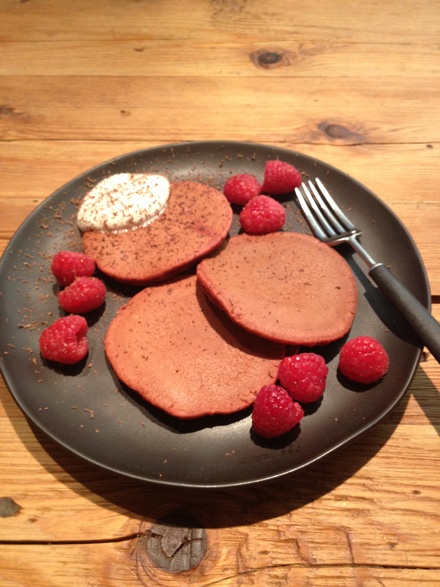 Serve to your beloved, or to whoever you damn well choose, with some fresh raspberries and a dollop or two of whipped cream on top of which you have grated some dark chocolate. Were you to have some chocolate syrup around, that would be a mighty fine accompaniment too!