Much excitement at Cupcake Towers right now: I am doing a special edition of Stylist magazine for a week in December - the Nigella Takeover they call it, and I'm not complaining! The idea of doing a free, food-based magazine is making me fire on all noisy cylinders. Poor them - little did they know when they used the phrase, that I would indeed become the bossy, excitable personification of the very word 'takeover'. But I couldn't be loving it more.
Most of the meetings have taken place in their offices as it's easier to move me than all of them, but this week Tom and Matt - picture editor and art director respectively - came over to discuss the look of the magazine (well, with my collection of cookbooks, it makes sense to have the meeting here) and so of course I made them stay for lunch.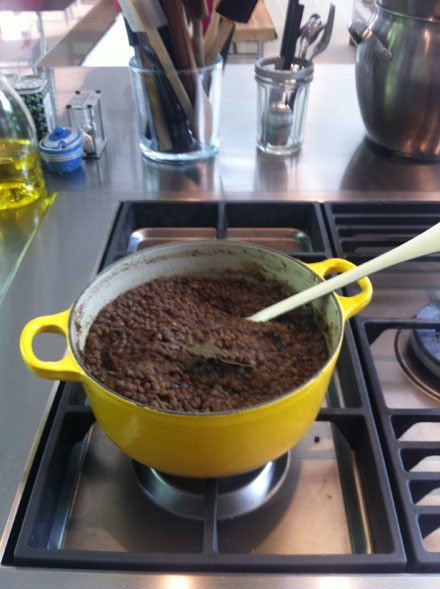 Because I'd wanted to be able to work without too much distraction in the morning, I got a lot of lunch underway on Sunday. So while (in theory) supervising homework and getting supper cooked, I got on with my chocolate Guinness cake and some lentils which I just cooked by sauteing some chopped shallots in a little garlic oil, stirring in some ground cumin and dried thyme, before adding puy lentils, covering with water flavoured with some organic vegetable bouillon powder and cooking with a lid on in my trusty yellow le Crueset. Then, all I had to do at Monday lunchtime was bung some organic chicken thigh fillets and baby chorizo (a kind of pared down Spanish Chicken in the oven while continuing with my meeting. The lentils were lovely with the potato-less Spanish chicken, and I made a quick tomato and rocket salad to go with.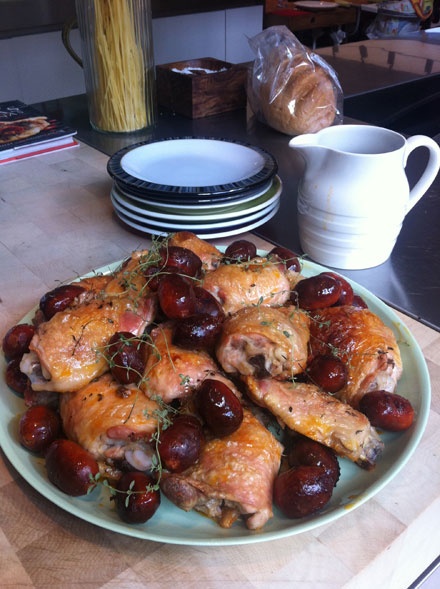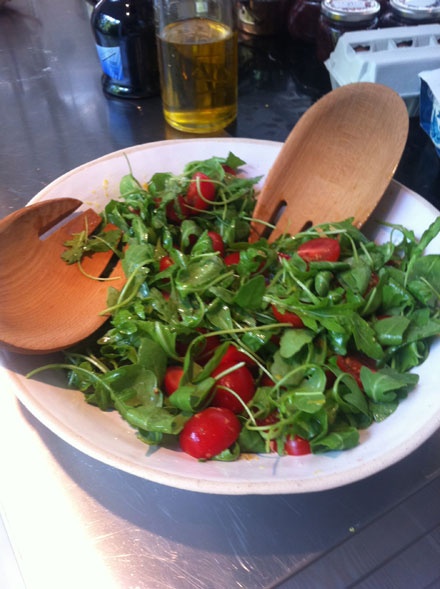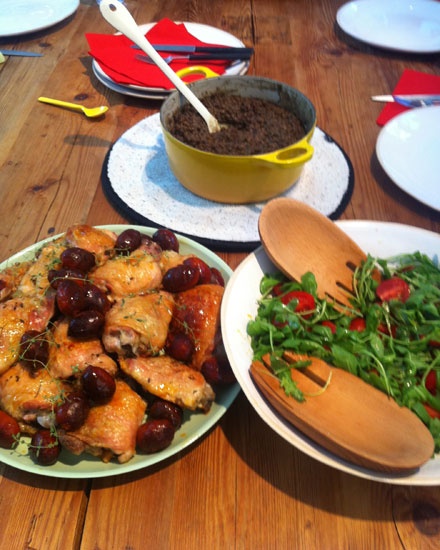 As for the cake. I wouldn't normally make a pudding for a weekday lunch, but Tom from Stylist is a keen baker and we'd been discussing the cake in question after a Stylist meeting last week, so wanted him to taste it. I didn't ice it but, since I had some clotted cream and strawberries that needed to be used up after the weekend, I thought they could be brought into service. I did my usual thing, which is to dice the strawberries and let them steep for a while with a little sugar and a few drops of balsamic vinegar. This is fantastic with pretty well anything, but absolutely gorgeous when dribbled over some cream-splodged chocolate cake!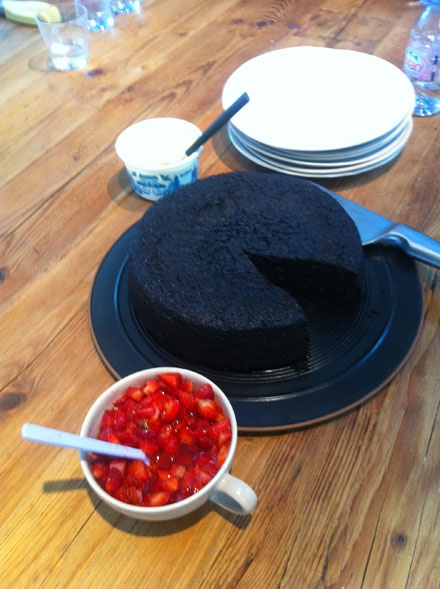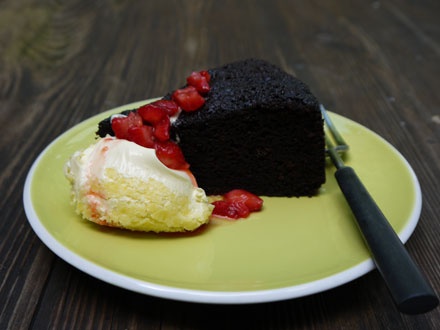 And it inspired me. I've got half a bottle of Guinness and half a tub of sour cream left over, plus a birthday cake to cook for tomorrow, so I thought I'd make the cake again, and put some of those candles that say HAPPY BIRTHDAY on top, and I'm going to make the strawberry and clotted cream I made for my 'strawblog' to go prettily with...