Print me
Introduction
During one of my culinary tours to Turkey, we had a Turkish cooking class at the Bizimev Hanimeli Restaurant, near the charming Sirince in the Aegean region. We made lightly battered, delicious cauliflower fritters as part of our class. Inspired by this dish, I created this version and tried baking cauliflower with beyaz peynir or feta, dill and onions in the oven. The result was a great success — baking brought out a sweetness in the cauliflower which balanced nicely with the sharp feta; a lovely dish, packed with flavour. Diced red pepper also works well in this dish.
I serve this baked cauliflower with cacik yoghurt dip with cucumbers and shepherd's salad with sumac onions. It can be served hot or at room temperature with a grilled main course and lemon wedges on the side.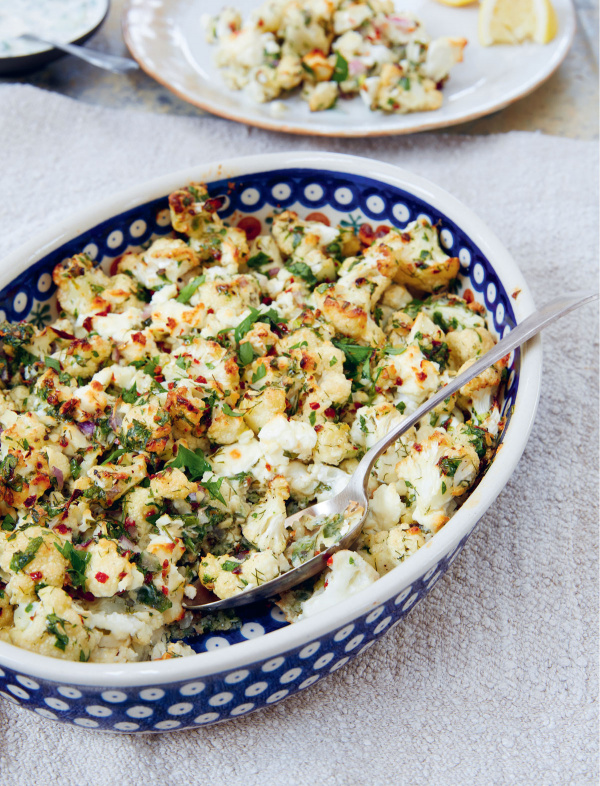 1 medium cauliflower (cut into very small florets)
1 small red onion (finely chopped)
2 cloves garlic (finely chopped)
3 spring onions (finely chopped)
small bunch of flatleaf parsley (finely chopped)
small bunch of fresh dill (finely chopped)
2 tablespoons olive oil
200 grams feta cheese or Turkish white cheese, beyaz peynir (drained and crumbled)
2 teaspoons Turkish red peppers flakes, pul biber or chilli flakes (use less if preferred)
salt and freshly ground black pepper to taste
3 medium eggs (beaten)
4 tablespoons plain flour
1 tablespoon olive oil to grease the baking dish
wedges of lemons to serve
Please note that nigella.com is not able to accept responsibility for any substitutions that Ocado may need to make as a result of stock availability or otherwise. For any queries, head to ocado.com/customercare.
Feel free to use the "swap" feature and adjust brands and quantities as needed.
Method
Baked Cauliflower with Red Onions, Feta and Dill: Firinda Karnabahar Mucveri is a guest recipe by Editor Jenny Linford so we are not able to answer questions regarding this recipe
You will need a 22cm x 22cm baking dish.
Preheat the oven to 180°C/160°C fan.
Cut the cauliflower into very small florets, wash and drain the excess water in a colander.
Place the cauliflower florets in a large mixing bowl. Stir in the chopped red onions, garlic, spring onions, parsley, dill, olive oil and the crumbled feta cheese to the bowl. Season with salt, ground black pepper and Turkish red pepper flakes or chilli flakes.
With clean hands, mix and combine all the ingredients well. At this stage, you can check the seasoning — add more salt or pepper to your taste. Then stir in the beaten eggs and flour to the cauliflower mixture and combine well.
Grease your baking dish with 1 tbsp olive oil and spread the mixture to the baking dish. Bake in the preheated oven for 30-35 minutes, until the cauliflower florets have a nice, light brown colour on top.
Slice and serve hot or at room temperature with a wedge of lemon at the side.
Other recipes you might like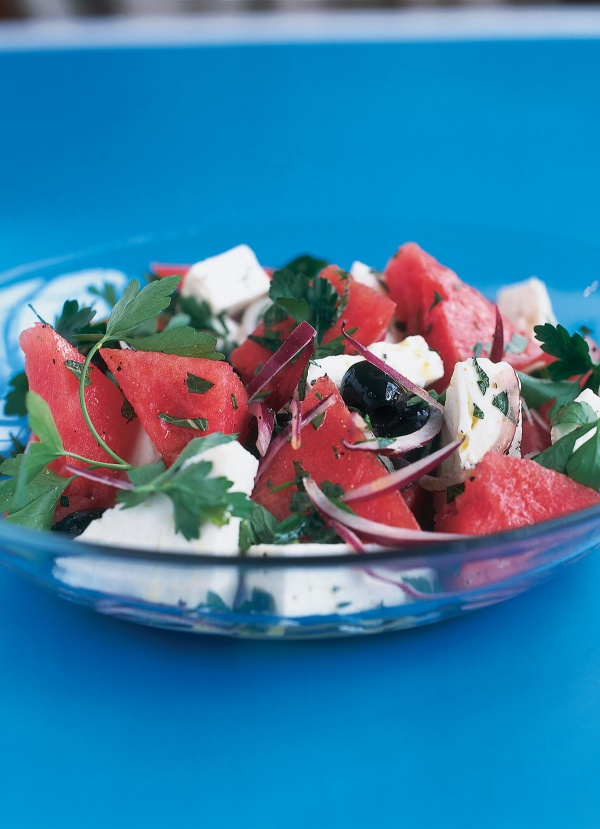 Watermelon, Feta and Black Olive Salad