Print me
Introduction
Escarole, a type of chicory, has rounded, ruffled leaves, a pale green center with darker green edges, and an intriguing, mild bitterness. Pairing it with the sweetness of English peas makes a perfectly balanced "sauce".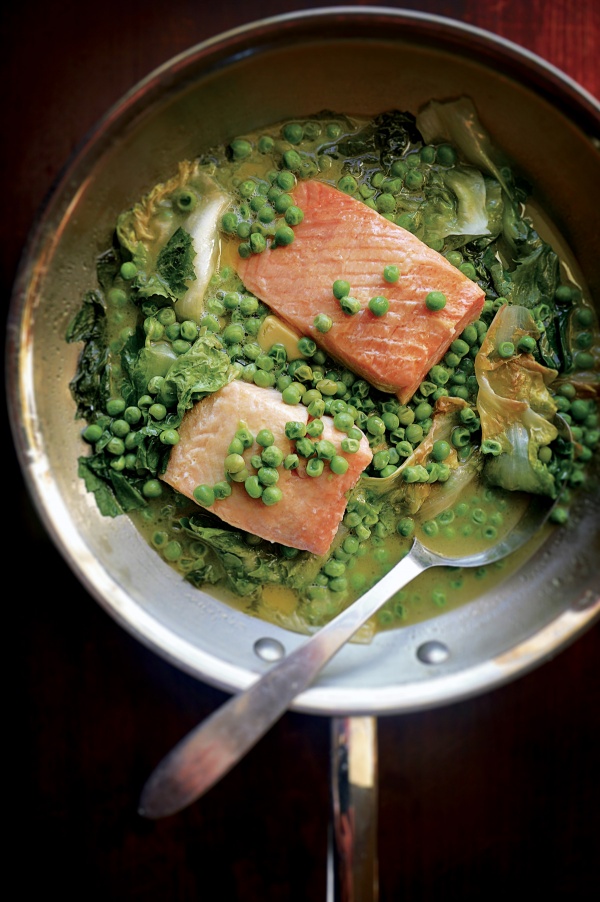 4 x 6-ounce, center-cut salmon fillets (each about 1½ inches thick)
1 cup dry white vermouth or dry white wine
salt
2 cups shelled fresh (or frozen) peas
1 head escarole (trimmed, and leaves separated and washed)
4 tablespoons butter (cut into pieces)
½ cup heavy cream
freshly ground black pepper
minced fresh chives (for garnish)
Method
Braised Salmon with Escarole and Peas is a guest recipe by Christopher Hirsheimer and Melissa Hamilton so we are not able to answer questions regarding this recipe
Place the salmon skin-side down in a deep, wide, medium skillet. Add the vermouth and ½ teaspoon salt. Cover the skillet and bring to a simmer over medium heat.
Add the peas and escarole to the skillet. Reduce the heat to medium-low. Gently braise the salmon, uncovered, until just cooked through and barely opaque in the center, about 6 minutes, depending on the thickness. Using a fish turner or slotted spatula, transfer the salmon to a plate, skin-side up, and cover the plate with plastic wrap to keep the fish warm and moist.
Use the spatula or a slotted spoon to transfer the escarole and peas equally between 4 warm plates.
Bring the pan juices in the skillet to a gentle boil over medium-high heat. Whisk in the butter, then the cream. Simmer the sauce, whisking often, until slightly thickened, about 2 minutes.
Uncover the salmon and peel off and discard the skin. Place the salmon skin-side down on the plates with the vegetables. Spoon the warm sauce over the fish. Season with salt and pepper. Garnish with chives, if you like.
Other recipes you might like