Print me
Introduction
This rich Levantine combination is immensely satisfying, with layers of flavour and aroma. The optional halloumi cheese makes it a meal in itself. As with anything cooked with oil, leftovers can be eaten cold – but not, in this case, if there is halloumi, as it becomes rubbery when cold.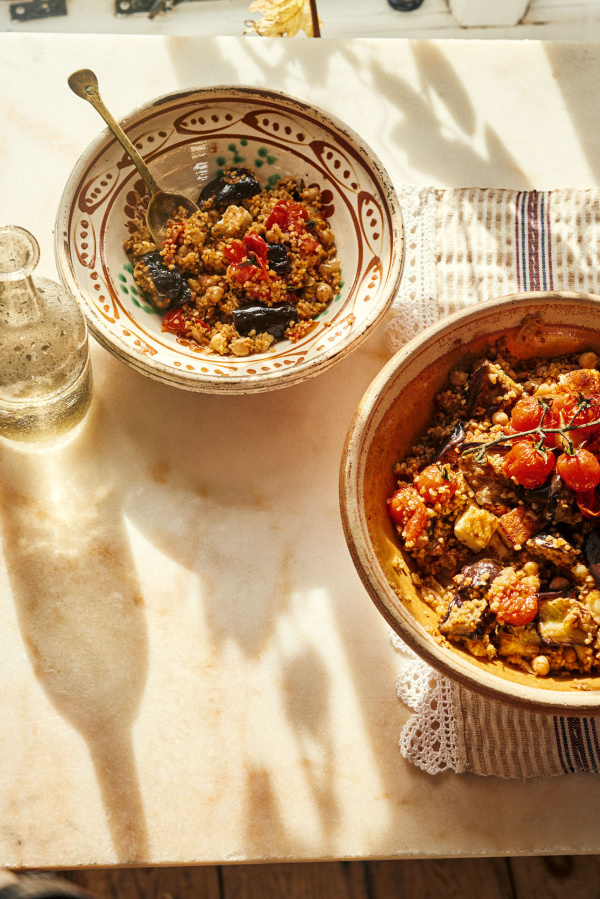 5 tablespoons olive oil
2 aubergines (trimmed and cut into 3cm cubes)
300 grams cherry or Santini tomatoes
2 onions (chopped)
3 cloves of garlic (chopped)
350 grams bulgur wheat
400 grams tin chickpeas (drained and rinsed)
1½ - 2 tablespoons tomato puree
1 teaspoon ground cinnamon
½ teaspoon ground allspice
1 teaspoon ground cumin
a good pinch of chilli pepper
500 millilitres boiling water
2 x 250g packets halloumi cheese (optional - omit for vegans)
3 tablespoons extra virgin olive oil
salt and black pepper
Method
Bulgur Pilaf with Chickpeas, Aubergines and Tomatoes is a guest recipe by Claudia Roden so we are not able to answer questions regarding this recipe
Heat 3 tablespoons of the oil in a sauté pan with a tight-fitting lid and put in the aubergines. Cook over medium heat, turning the cubes over with a spatula so that all have a few minutes to get browned, add salt and pepper and put the lid back on so that they steam in their own juice for about 15 minutes. Put in the cherry tomatoes, turn them over with the aubergines, then continue to cook, covered, for about 8 minutes, until they are soft and begin to release some juice.
In a large pan, fry the onions in the remaining oil over medium heat for 8 minutes, stirring often, until soft and beginning to colour. Add the garlic and cook, stirring, for 2 minutes or until the aroma rises and it begins to colour. Take off the heat and stir in the bulgur and chickpeas.
Put the tomato purée into a measuring jug and add the cinnamon, allspice, cumin, chilli pepper and some salt. Pour in the boiling water and stir vigorously, then pour this into the pan with the bulgur and mix well. Bring to the boil, cover, and cook over low heat for 15 minutes. Taste for salt: you will probably need more.
If adding halloumi, cut the cheese into 3cm cubes and cook quickly over medium–high heat in a non-stick frying pan with a tiny amount of oil, turning the pieces to brown them all over. Mix into the bulgur.
Turn the bulgur into a large baking dish and mix in the aubergines and tomatoes. Serve with the extra virgin olive oil drizzled over.
Additional Information
To reheat before serving, cover with foil and warm through for 10–15 minutes in an oven preheated to 200°C/180°C fan/gas 6.
Other recipes you might like