Print me
Introduction
Crunchy on the outside, melt-in-the-mouth creamy soft on the inside, these potatoes are infused with an unbelievable medley of flavas. We absolutely enjoy nyammin pon these golden treats.
You may be wondering how the rum works in this: we use dark rum when tossing the potatoes to get them all crumbly and to seep into the crispy parts when roasted.
The key to getting the right flava infusion into this dish is keeping the garlic skins on when roasting alongside the other vegetables – it bathes in the oil and infuses the potatoes to produce the most amazing taste.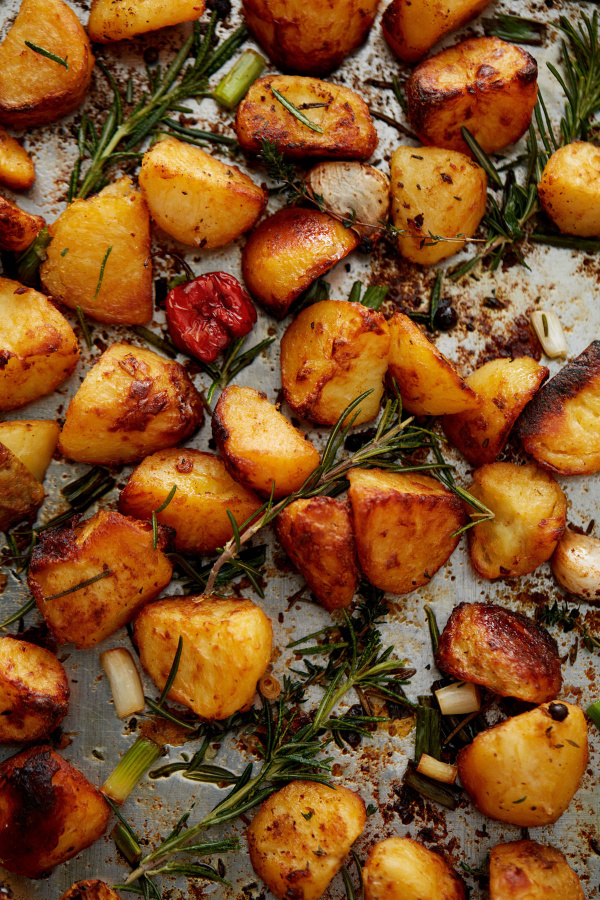 1 kilogram potatoes (Maris piper or baking potatoes are best) peeled and quartered (or cut into 6 or 8 if very large)
50 millilitres dark or spiced rum
½ teaspoon salt
¼ teaspoon coarsely ground black pepper
1 teaspoon paprika
75 grams unsalted vegan butter
4 tablespoons olive oil
4 garlic cloves (unpeeled)
4 - 6 pimento (allspice) berries (or ¼ tsp ground)
3 - 4 fresh rosemary or thyme sprigs
1 Scotch bonnet pepper
2 spring onions (chopped)
Salt and coarsely ground black pepper
Method
Rum-Roasted Potatoes is a guest recipe by Craig and Shaun McAnuff so we are not able to answer questions regarding this recipe
Preheat the oven to 200℃ Fan/220℃/Gas 7.
Bring a large pot of water to the boil, add your potatoes and a likkle salt. Par-boil for 10 minutes until beginning to soften slightly, then drain and toss them three or four times until rough around the edges.
Add the rum, toss again to coat the potatoes, then add the salt, black pepper and paprika, and give them a final toss to distribute evenly.
Heat the butter and olive oil in a large roasting tin in the preheated oven, then when the butter is melted and the oil is hot, add the garlic, pimento, herb sprigs and scotch bonnet, then add the potatoes, spreading them out so they have at least 1cm of space between them.
Roast for 40–45 minutes, turning them over halfway through and adding the spring onions about 5 minutes before the end of the roasting time, until the potatoes are crispy and golden.
Other recipes you might like