Print me
Introduction
These delicious roasted spuds are an ideal accompaniment to a wide range of main course meals from simple sausages to roasted poultry, beef or even pan grilled steak or chicken breast. Excellent dished out onto a foil tray and popped onto a barbeque.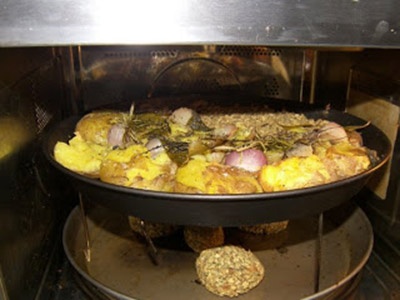 1 pound potatoes (unpeeled - good roasters are Maris Piper or King Edward, the smaller the better but bigger potatoes can be cut in half)
10 whole shallots (peeled)
4 cloves peeled garlic (and gently crushed)
3 sprigs fresh rosemary (use dried if you wish)
3 sprigs fresh thyme (use dried if you wish)
2 sage leaves (be careful how much sage you use, it's a powerful herb and can easily smother the other flavours)
2 bay leaves
walnut oil (or olive oil)
coarsely ground salt
black pepper
Method
Roasted Crushed Potatoes With Shallots, Garlic & Herbs is a community recipe submitted by steve189 and has not been tested by Nigella.com so we are not able to answer questions regarding this recipe.
Begin to pre-heat your oven to 180C (gas mark 4-5) while you prepare the potatoes.
Put the potatoes, shallots, garlic and half of the herbs into a pan and cover with water. Bring to the boil and simmer until a sharp knife just pierces the potatoes. Leave to cool slightly in the hot water for five or ten minutes then strain in a colander and allow the potatoes etc to steam dry.
Oil a roasting tin with a little of the walnut/olive oil. One at a time, crush the potatoes using a large spoon. They don't want to be mashed up but just kind of broken apart and add them to the roasting tin.
Place the remaining contents of the pan (shallots, herbs etc) in among the potatoes and sprinkle the remaining un-used herbs over the top.
Drizzle the walnut/olive oil all over the top of the potatoes and place in the oven for an hour (longer if needed) until the potatoes are golden and crispy on the outside but soft and fluffy on the inside.
Additional Information
You can either serve them immediately or allow them to cool and re-heat them, quickly in a hot oven or on the barbeque in a foil tray. Step by step photos on my blog.
Other recipes you might like