Print me
Introduction
When you ask people what their favourite bit of a Greek meal is, many will single out the roasted potatoes. The secret to them is lots of water, a long time in a slow oven and mustard - not the first thing you'd think of as an ingredient to roasted potatoes. There is no distinctive flavour of mustard in the end result, but it is a key ingredient which melds together with the olive oil, lemon and oregano to create the distinctive flavour of this dish.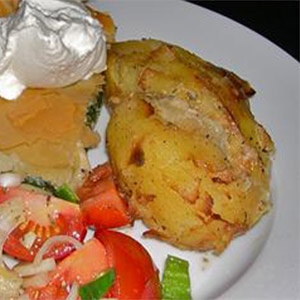 1 kilogram potatoes
2 tablespoons english mustard powder
1 tablespoon vegetable broth (concentrated, or one cube - or beef or chicken stock)
1 teaspoon oregano (or thyme)
375 millilitres water
125 millilitres olive oil
1 lemon (juice of)
Method
Roasted Potatoes is a community recipe submitted by duffs10 and has not been tested by Nigella.com so we are not able to answer questions regarding this recipe.
Preheat oven to 200°C.
Cut the potatoes in half and soak in a tub of cold water for an hour or so. Drain and place the potatoes into a roasting pan just large enough to fit all the potato pieces in 1 layer.
Mix together the mustard powder, bouillon, oregano and water. Pour over the potatoes. The sauce should come about halfway up the potatoes. If not, add a little bit more water.
Drizzle olive oil over the potatoes. Roast in the oven for 1 - 1 ½ hours, turning them over after the first ½ hour. Be careful, as they will be very soft and will fall apart easily. They are done once all the liquid has evaporated.
Remove from oven, drizzle with the lemon juice and season with salt and pepper.
Cover with foil to let the potatoes rest for at least 15 minutes. Traditionally these are served not much warmer than room temperature alongside lamb, spanakopita, greek salad, etc.
Other recipes you might like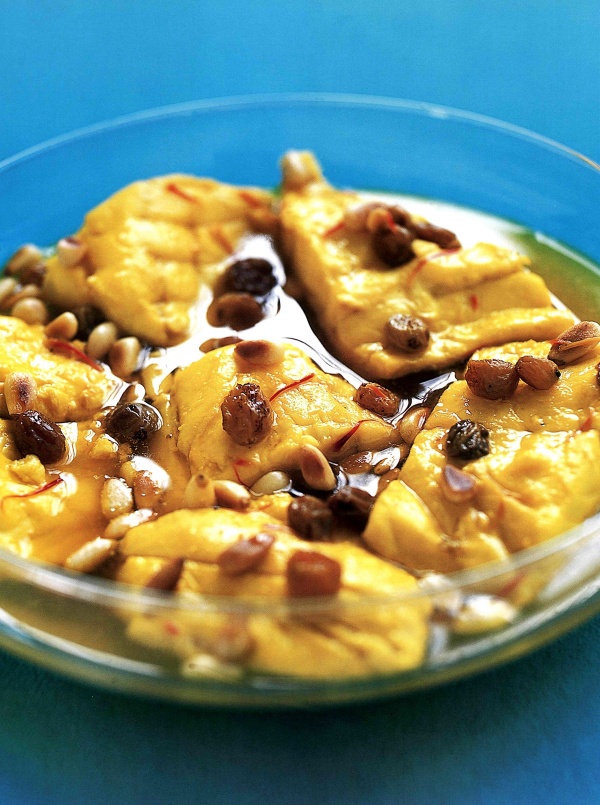 Sea Bass With Saffron, Sherry and Pinenuts