Print me
Introduction
We love all things croquetas! In Spain there are bars, shops, supermarket aisles, books and even daydreams dedicated solely to the croqueta. They come in all shapes, flavours and sizes but we like to keep them simple. Here we use jamón serrano but you can replace the jamón with practically anything.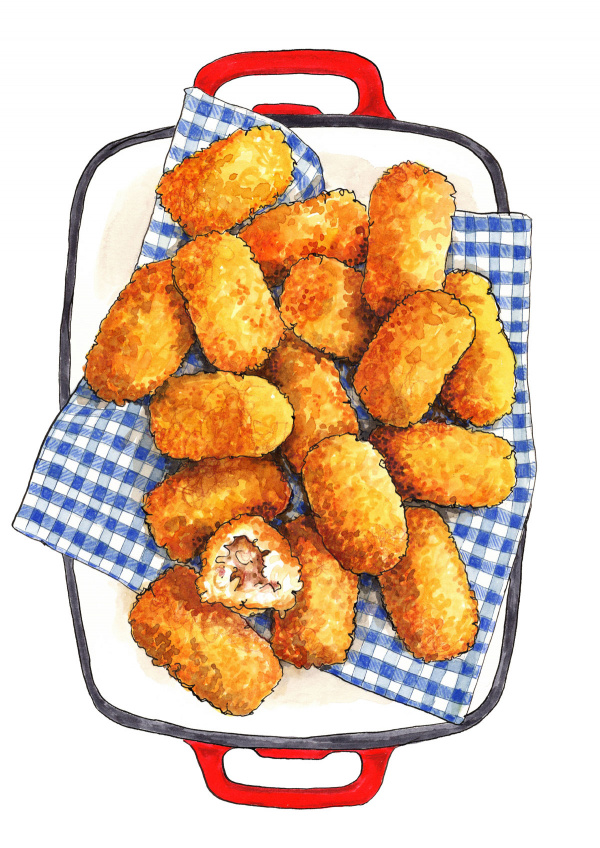 125 grams butter
½ onion (finely diced)
250 grams serrano ham (minced)
160 grams plain flour (sifted)
1 litre warm milk
1 tablespoon fine sea salt
2 teaspoons ground black pepper
1½ teaspoons ground nutmeg
TO DEEP-FRY THE CROQUETAS
150 grams plain flour
4 eggs (whisked)
150 grams fine breadcrumbs
2 litres sunflower oil or vegetable oil
Please note that nigella.com is not able to accept responsibility for any substitutions that Ocado may need to make as a result of stock availability or otherwise. For any queries, head to ocado.com/customercare.
Feel free to use the "swap" feature and adjust brands and quantities as needed.
Method
Croquetas de Jamón (Ham Croquetas) is a guest recipe by Anna Cabrera and Vanessa Murphy so we are not able to answer questions regarding this recipe
Melt the butter in a large pot set over a medium heat. Add the onion and cook for 8–10 minutes, until soft, then add the minced serrano ham and the sifted flour, stirring constantly until the flour is golden. Pour in the warm milk and whisk constantly until the mixture starts to thicken. Stir in the salt, pepper and nutmeg, then remove the pot from the heat.
Scrape the mixture out onto a baking tray, cover immediately with cling film and leave to cool, then refrigerate for at least 6 hours (or until the next day).
 When you're ready to cook, set up three bowls: one for the flour, one for the whisked eggs and one for the breadcrumbs. Using your hands, shape the croquetas to your desired size (we suggest 6–8cm long). Roll through the flour, then the eggs and finish with the breadcrumbs.
 Heat the oil in a deep-fryer to 190°C. If you don't have a deep-fryer, you can use a deep pot but make sure it's no more than half-full of oil.
 Working in batches, deep-fry the croquetas for about 2 minutes, until golden. Remove with a slotted stainless steel spoon to a plate lined with kitchen paper to remove any excess oil. Croquetas are always served hot, but we've been known to steal them cold from the plate at home!
Other recipes you might like