Print me
Introduction
I do not have many principles, as a cook, but chief among those I do have is this: I will go to the wall for pre-prepared ingredients. Cooking is not a contest or a virtue test, and it is not only for those with plenty of time. Cooking is for everyone, or it should be. And anything — anything — that makes that more likely (pre-chopped vegetables, ready-rolled pastry, a stock cube or pot) is to be applauded, wholeheartedly.
You can't always do everything, and you should know that even people who make a living from cooking do not always start from scratch. Prepping is work, and it takes physical strength sometimes, and mental strength sometimes, and energy always, and if it's easier on you to buy pre-prepared ingredients, do it. Consider this permission, if you need it. You do whatever you need to look after yourself. This does not make you any less of a cook. This does not make the success of your meal any less your success.
Carl Sagan once said that you couldn't make an apple pie from scratch unless you first invented the universe: all you're doing is starting a little further down the road than most. There is no shame at all in buying pre-rolled puff pastry. I have never met anyone who made their own puff pastry, and if I did I'd wonder (with more than a touch of envy, obviously) if they didn't have anything better to do. There is no shame in buying cooked chickpeas: you can't always know exactly what you're going to eat twenty-four hours in advance. And there is no shame in buying pre-diced squash: chopping squash is hard, especially if you have shaky hands.
This pie is made with ready-rolled pastry, pre-chopped squash and tinned chickpeas, and it's brilliant. Really. It's one of my favourite meals in the world — and with a glass of cold white wine and a crisp salad (or some petit pois), it's even better.
There are no photographs in the book, but this photo was especially commissioned by the publishers.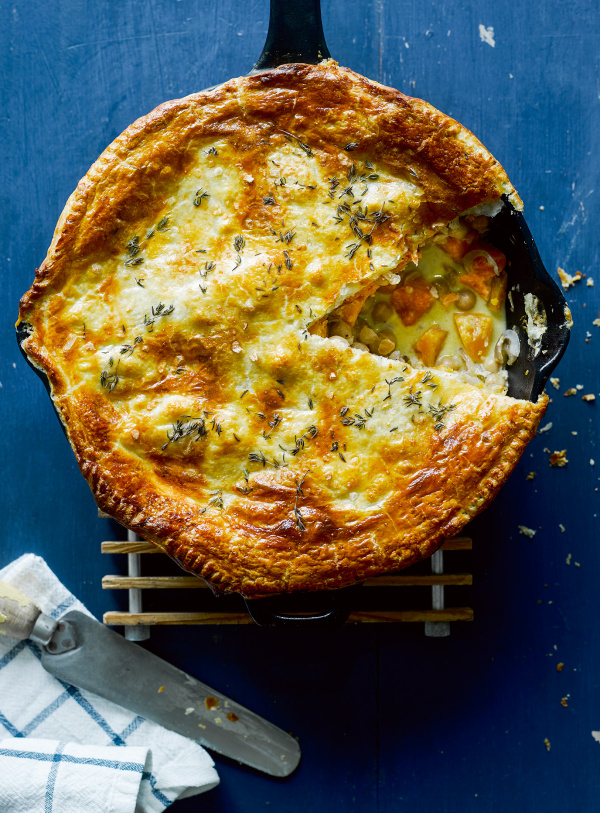 2 red onions
4 cloves of garlic
1 teaspoon butter
1 teaspoon olive oil
540 grams pre-chopped squash (that's 2 bags of the stuff from the supermarket – sometimes it has sweet potato in it too, and that's fine)
1 teaspoon black pepper
2 good gratings of nutmeg or 1 teaspoon ground
3 stalks fresh thyme or 1 teaspoon dried
1 little glass of dry white wine
1 x 400 grams tin of chickpeas
50 grams Parmesan cheese
1 egg
100 millilitres double cream
1 x 320 grams pre-rolled chilled puff pastry
Maldon sea salt flakes
salad (to serve)
Please note that nigella.com is not able to accept responsibility for any substitutions that Ocado may need to make as a result of stock availability or otherwise. For any queries, head to ocado.com/customercare.
Feel free to use the "swap" feature and adjust brands and quantities as needed.
Method
Squash Skillet Pie is a guest recipe by Ella Risbridger so we are not able to answer questions regarding this recipe
Slice your onions and chop your garlic. Grab a cast-iron skillet or ovenproof frying pan (mine is 26cm across), and set it over a medium-low heat. Add the butter and oil, and your onions and garlic. Cook for 15 minutes, stirring every so often until the onions are all beautiful and tangly, then chuck in your squash.
Let the squash sear against the hot skillet for a minute or two, and then, working fast, add the pepper, nutmeg, the leaves from two of the thyme stalks (if you're using dried thyme, add it all now) and the white wine. Cover immediately with a lid or foil, then turn the heat down to low and leave the squash to cook for 20 minutes.
Meanwhile, open the tin of chickpeas, rinse in a colander and leave them to drain in the sink. Grate your Parmesan (unless you've bought pre-grated, which is – say it with me – also fine) and beat your egg.
Take the lid or foil off your squash, and taste: it should be tender and lovely. Add the chickpeas, Parmesan and cream. Give it a good stir, and taste again: add salt if it needs it, and maybe more pepper. Remove from the heat and let it cool for 10 minutes.
Pre-heat your oven to 180°C.
Unroll your pastry on a sheet of baking paper, and cut out a circle slightly bigger than your skillet – I use a dinner plate for this, as a template. Using the baking paper to help you lift it, slide the pastry lid over the top of the squash, then carefully use a fork to seal the edges of the pastry against the sides of the skillet. Prick a hole with the fork in the centre of the pastry lid, then brush with beaten egg and scatter with sea salt and the leaves from the remaining thyme stalk. Transfer the skillet to the oven and bake for 15 minutes, or until the pastry is golden and glossy.
A trivet on the table. Get someone else to pour the wine, put out knives and forks, and maybe make a salad. (I mean, empty a bag of leaves into a bowl, maybe whisk up a little olive oil with lemon juice and balsamic vinegar: this is a lazy meal, remember.) Maybe light a candle. Take the skillet to the table – be very careful around the skillet, as it will be hot – and let people serve themselves, chinking glasses in the candlelight.
Other recipes you might like