Print me
Introduction
At the very real risk of sounding like Miss Marple, I can think of few better companions for a winter's afternoon than a box of Fortnum & Mason violet and rose creams and a good book. I'm a big fan of the delicate perfume of violets in particular, which marries beautifully with sweet almonds in this nutty take on the classic sweet – don't be tempted to leave out the salt, it really makes them.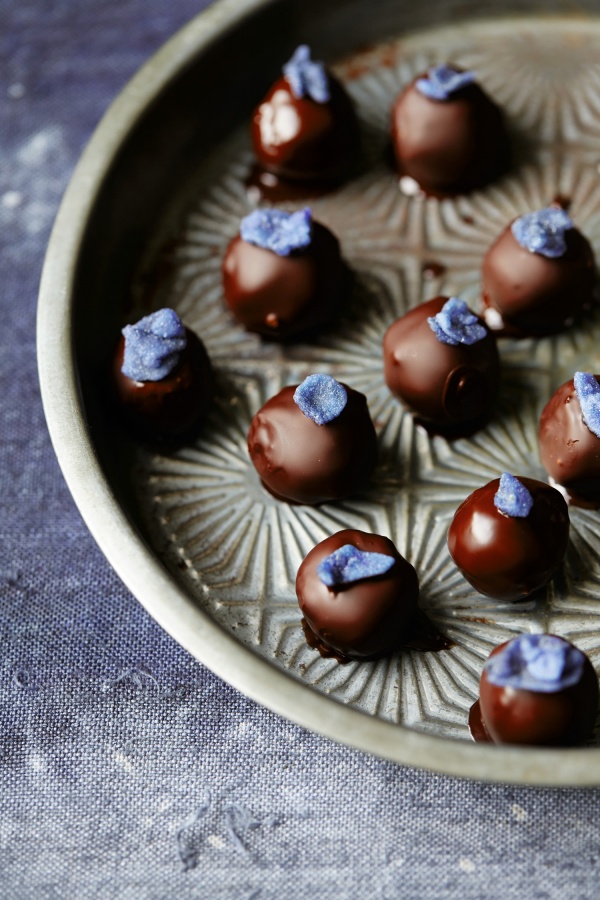 Ingredients
Makes: about 25
80 grams icing sugar , plus a little extra to dust
80 grams caster sugar
1 egg
A few drops of almond extract
A few drops of violet essence
175 grams ground almonds , whizzed in the food processor if coarse
100 grams dark chocolate
crystallized violets or coloured sugar, to decorate
Method
Marzipan Violets is a guest recipe by Felicity Cloake so we are not able to answer questions regarding this recipe
Bring a pan a third full of water to a simmer and sift the icing sugar into a heatproof bowl large enough to sit above, but not touching, the water. Run a little cold water into the sink. Stir the caster sugar and egg into the icing sugar, then set over the pan and whisk for at least 10 minutes, until thick and puffy.
Put the bowl into the sink, add a couple of drops of both flavourings and a pinch of salt and whisk until cool, then taste; the violet should be the dominant flavour, so add more if necessary, plus more salt if you like.
Stir in the ground almonds until you have a smooth paste, using your hands if necessary, then dust a tray with a little icing sugar and roll the marzipan into roughly quail's egg sized balls and arrange on the tray. Put in a cool place, or the fridge, to firm up a little – an hour should do it but longer won't hurt.
Melt the chocolate in a bain-marie (as above) or in the microwave, then dunk each ball in it to coat and put back on the tray, topping each with a violet or a sprinkle of sugar before it sets. Use any extra chocolate to touch up any thin bits, then set aside for the chocolate to harden.
Other recipes you might like