Print me
Introduction
I first tried okonomiyaki at a food market near our home many moons ago, and would drag myself out of bed on Sundays to get my fix. It's essentially a large veg-packed Japanese pancake, which I have simplified to make at home. Kimchi is optional, so don't feel obliged to use it, and try adding different veg (always keeping the cabbage, though). You could even change the protein if you like - shredded pork or beef are great - or leave it out altogether if you're vegetarian (it's seriously good with grated Cheddar). And from start to finish it takes no more than 20 minutes - what a dream.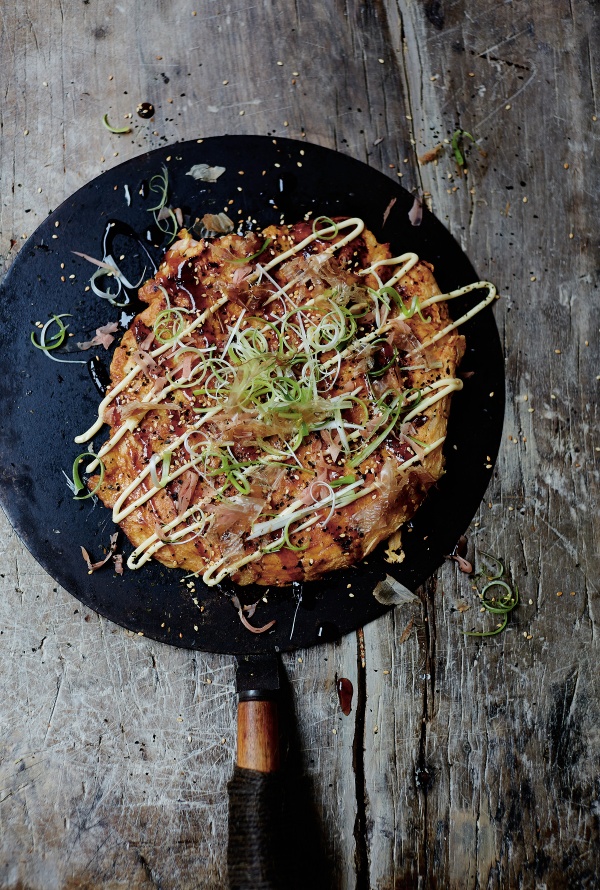 2 large eggs
150 grams plain flour
1 teaspoon baking powder
sea salt
freshly ground black pepper
250 grams chinese cabbage
60 grams kimchi
100 grams small cooked prawns
2 tablespoons sesame seeds
groundnut oil or rapeseed oil
3 spring onions
1 heaped teaspoon pickled ginger
3 tablespoons okonomiyaki sauce (see note below)
3 tablespoons mayonnaise (ideally from a squeezy bottle)
2 tablespoons seaweed flakes
3 - 4 pinches of bonito flakes
Method
Kimchi and Prawn Okonomiyaki is a guest recipe by Georgina Hayden so we are not able to answer questions regarding this recipe
In a large jug or mixing bowl whisk together the eggs, flour, baking powder, a good pinch of salt and pepper and 150ml of water until you have a smooth batter. Trim and finely shred the cabbage and finely slice the kimchi. Mix them into the pancake batter with the prawns.
Place a medium-size non-stick frying pan on a medium heat and add the sesame seeds. Toast them for a couple of minutes until golden, then transfer to a small pan. Place the pan back on the hob and pour in a good glug of oil. Ladle in half the batter and leave it to fry for 6-7 minutes, until golden underneath and just set. Quickly and confidently flip the pancake over and cook for a further 4-5 minutes.
While your pancake is cooking, prepare the garnishes. Finely slice the spring onions and pickled ginger. If you are making your own okonomiyaki sauce, mix the runny honey, ketchup, Worcestershire and soy sauces together. Brush the top of the pancake with half of the okonomiyaki sauce just before serving.
Transfer the glazed pancake to a plate, drizzle with half of the mayonnaise, then sprinkle over the seaweed, ginger, toasted sesame seeds and spring onions, and finish with a pinch of the bonito flakes. Serve immediately, then repeat with the remaining ingredients.
Additional Information
In place of 3 tablespoons okonomiyaki sauce, you can use 1 tablespoon runny honey, 2 teaspoons ketchup, 1/2 tablespoon Worcestershire sauce, 2 teaspoons low-salt soy sauce.
Other recipes you might like