Print me
Introduction
Our lifestyles can be so frenetic that it can be hard to find a moment to step out of the grind and slow down the rhythms. Taking our time to make something good to eat is actually a great way to do this; I'd go so far as to say, it's a form of recovery. This recipe is gentle and warming and perfect for those slower, darker nights at home. I like to use whole shin of beef on the bone. Ask your butcher for it, I find it's the best cut for cooking in this way.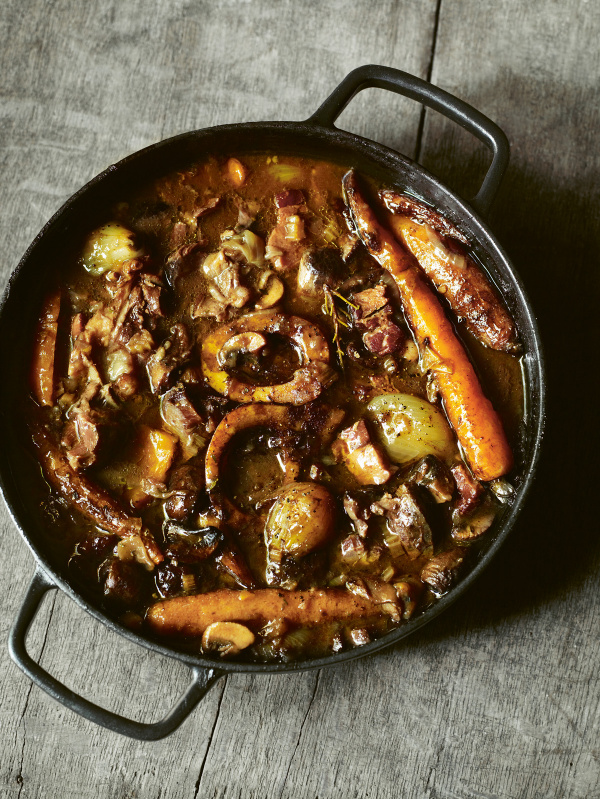 dash of oil or beef dripping, for frying
150 grams chunky bacon lardons
2 thick slices of shin of beef on the bone (about 800g)
2 tablespoons plain flour
1 large knob of butter
8 small carrots (peeled but left whole)
12 little onions or small shallots (peeled but left whole)
200 grams small chestnut mushrooms (halved)
1 onion (halved and finely sliced)
2 small sticks of celery (finely sliced)
2 cloves of garlic (peeled and thinly sliced)
3 or 4 sprigs of thyme
2 bay leaves
400 millilitres red wine
400 millilitres beef stock or chicken or vegetable stock
salt
freshly ground black pepper
Please note that nigella.com is not able to accept responsibility for any substitutions that Ocado may need to make as a result of stock availability or otherwise. For any queries, head to ocado.com/customercare.
Feel free to use the "swap" feature and adjust brands and quantities as needed.
Method
Whole Beef Shin with Red Wine, Carrots and Little Onions is a guest recipe by Gill Meller so we are not able to answer questions regarding this recipe
Heat the oven to 150°C/300°F/gas mark 3. Heat a large heavy-based frying pan over a medium–high heat and add the oil or dripping. Scatter in the bacon lardons and fry them for 3–5 minutes on all sides, until they are beginning to crisp a little around the edges. Remove to a plate while you turn your attention to the beef. Dust the pieces of shin in the flour, and then place them in the same hot pan. Season the beef all over with salt and pepper and fry for 3–4 minutes on each side, and for a few minutes on the thick edges if you can, to brown all over. Remove the beef and set it aside.
Leave the pan on the heat. Add the butter, then the carrots and baby onions, and fry them gently on all sides for about 8–10 minutes, until they have taken on a little colour. Set these aside on a clean plate. Add the mushrooms to the pan, season them lightly and fry for 6–8 minutes. Set these aside with the carrots and baby onions.
Keep the pan on the heat and add the sliced onion, celery and garlic, and the thyme and bay. Season, then sweat the vegetables gently for about 4–6 minutes, until they begin to soften.
Return the bacon lardons and shin to the pan and turn up the heat. Pour in the wine and bring to the boil. Add the stock (it should just cover the meat) and bring back to a gentle simmer, stirring once or twice. Put a lid on the pan and cook the shin for about 3–4 hours, or until the meat is tender. Then, add the carrots, mushrooms and onions and stir. Replace the lid and return to the oven for a further 35–40 minutes, until both the carrots and onions are tender. Remove the stew from the oven, adjust the seasoning, then let stand for 20 minutes before eating. (It will be even better after 24 hours.)
Other recipes you might like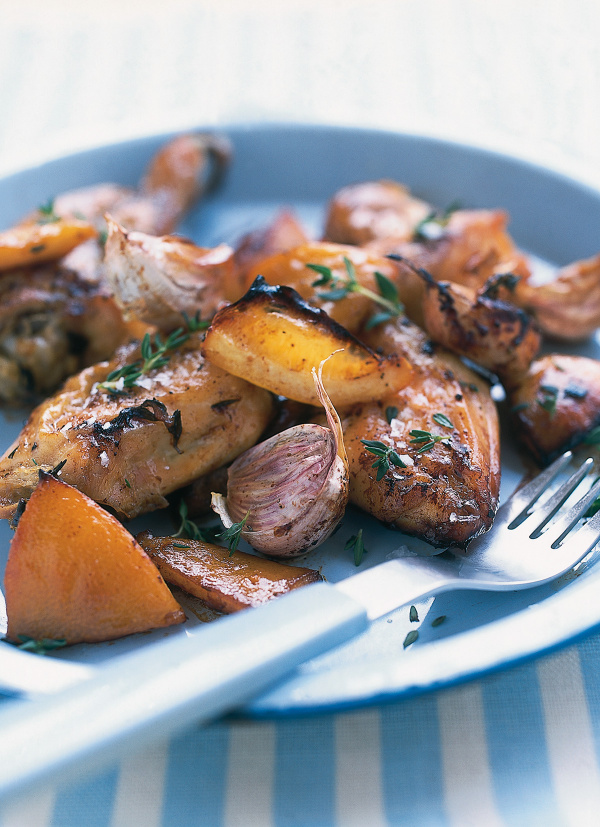 Slow Roasted Garlic and Lemon Chicken