Print me
Introduction
This is my favourite curry, my go-to, easy but perfect comfort food. I used to make it with turkey - a large drumstick would serve four people easily (pre-roast the drumstick and just peel the meat off the bone) - but now I use chickpeas instead so it's a deliciously wholesomely vegan dish. I soak my chickpeas overnight, or first thing in the morning for that evening. You can use tinned ones to speed things up, but they are usually more expensive. Serve this gorgeous fruity curry with simple plain boiled rice. These quantities make dinner for 2 people with enough leftovers for lunch.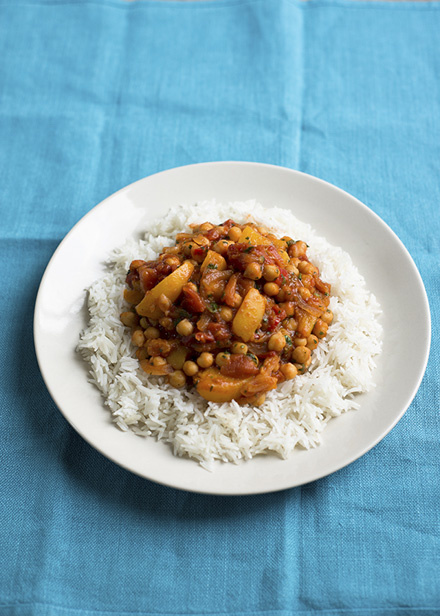 Ingredients
Serves: 2 with enough leftovers for lunch
100 grams dried chickpeas (left to soak for at least 8 hours)
1 onion
1 clove garlic
1 chilli
splash of oil
sprinkling of ground cumin
1 x 400 grams tinned peaches
1 x 400 tinned tomatoes (or chopped tomatoes in a carton)
handful fresh coriander (finely chopped)
1 vegetable stock cube
Method
Peach and Chickpea Curry is a guest recipe by Jack Monroe so we are not able to answer questions regarding this recipe
Drain your soaked chickpeas and rinse them vigorously to get rid of the stagnant water that they'll have been sitting in. Pop them in some fresh water in a saucepan and bring to the boil. Boil rapidly for a good 10 minutes to boil out any toxins.
Meanwhile, peel and finely chop the onion and garlic, and chop the chilli. Put the oil into another saucepan and add the onion, garlic and chilli, then the cumin, and cook gently on a low heat. Allow the onions to sweat, not brown. If they burn, the burnt taste will permeate through your whole curry, whereas sweating them will add a delicious sweetness.
Drain the peaches, reserving the juice, and chop into small chunks. Add to the onion mixture in the pan, along with any juice from the tin. By this time, the chickpeas should have finished vigorously boiling so reduce them down to a simmer.
Pour the chopped tomatoes over the peaches and onion, add the coriander and crumble in the stock cube. Then stir everything together. Reduce the heat to a low setting, and allow to cook gently for at least 30 minutes. This thickens the sauce and melds the flavours together - if chopped finely enough, the onions will disappear as they make the sauce thicken with a sweet spiciness. You may need to add a cup of water to the sauce if it starts to get too thick.
Drain and rinse the chickpeas and tip into the sauce. Stir together then serve.
Additional Information
Tips: This curry keeps in the fridge for 2 to 3 days and freezes well, if there's any left! Leftovers can be served cold in a pitta bread the next day for a delicious, portable lunch.
A few of my readers have emailed me to say that they add different spices, or cheap curry powder, or a handful of sultanas as variations - and this dish is a great place to smuggle in any leftover vegetables lurking in the fridge, or some frozen spinach or frozen diced mixed veg.
Other recipes you might like