Print me
Introduction
This is an essential summer supper in my house, the kind of basic-with-a-twist recipe that I love. It's a riff on classic salade Nicoise, with most of the ingredients you find in that salad tossed instead with pasta, and it works spectacularly. It's light and fresh but completely satisfying, great hot or at room temperature, and manages to seem sort of special and elegant even though it's made with canned tuna.
Not all canned tuna is created equal, however, and it's worth seeking out an Italian brand of olive-oil-packed tuna, which is superior in both flavor and texture to your typical store-bought tin of fish. It's more expensive, but still less expensive than making the same dish with fresh fish; sort of a happy compromise, I think.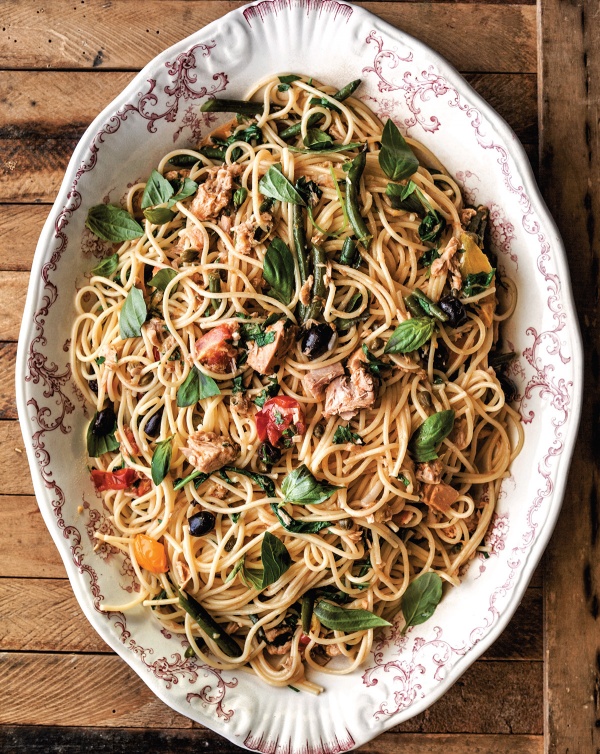 4 ounces green beans (stemmed)
12 ounces spaghetti
¼ cup extra virgin olive oil plus more for finishing
3 scallions (thinly sliced)
1 large clove of garlic (peeled and slivered)
1 pinch of red pepper flakes
2 (5-ounce) cans oil-packed tuna (preferably Italian or Spanish)
2 cups halved cherry tomatoes
1 tablespoon capers
¼ cup pitted Nicoise olives
1 tablespoon white wine vinegar
½ teaspoon lemon zest
1 cup arugula
½ cup chopped fresh italian parsley
kosher salt
12 large leaves fresh basil (torn into pieces)
Method
Spaghetti Nicoise is a guest recipe by Jessica Battilana so we are not able to answer questions regarding this recipe
Bring a large pot of salted water to a boil. When the water is boiling, add the green beans and cook until tender, 4 to 5 minutes. Remove from the pot with tongs, transfer to a colander, and rinse with cold water to stop the cooking. Cut the beans crosswise into thirds and set aside.
Add the spaghetti to the boiling water and cook until al dente. While the pasta cooks, heat ¼ cup olive oil in a large frying pan over medium heat. Add the green onions, garlic, and red pepper flakes and cook, stirring, until the green onions soften, 1 to 2 minutes. Add the tuna (and its oil) and stir to combine, then increase the heat to medium high and add the tomatoes, capers, olives, vinegar, and lemon zest and cook, stirring, just until the tomatoes begin to soften, 2 to 3 minutes more. Remove the pan from the heat.
Drain the spaghetti, reserving 1 cup of the pasta cooking water, and add the spaghetti to the frying pan with the tuna mixture. Using tongs, toss the pasta with the tuna mixture until well coated, adding some of the pasta cooking water as necessary. Add the green beans, arugula, and parsley and toss until combined. Season to taste with salt, then transfer to a platter and drizzle with a ribbon of olive oil. Sprinkle the basil over and serve hot or at room temperature.
Other recipes you might like