Print me
Introduction
This dish is a fusion of my experience working in a French restaurant and my home cooking. I love making caramelized shallots, and they taste great with everything. The sweetness against the tartness of the labneh and fresh herbs makes for a great side dish, but they also work well on their own.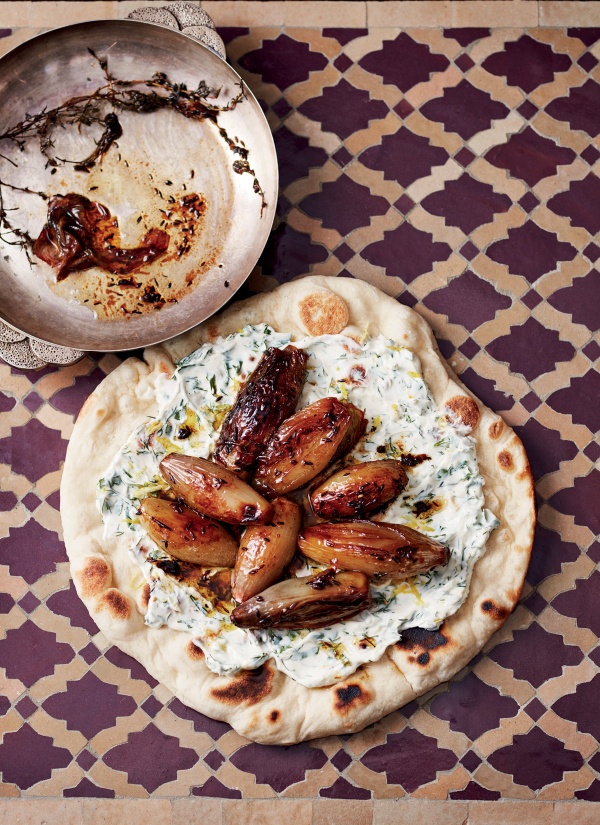 For the Taboon Breads
300 grams plain flour (plus extra for rolling out)
200 grams bread flour
1 x 7 grams sachet Instant yeast
1 teaspoon caster sugar
1 tablespoon salt
350 millilitres warm water
3 - 4 tablespoons olive oil
For the Caramelized Shallots and Herby Labneh
6 tablespoons olive oil
1 teaspoon cumin seeds
1 tablespoon butter
500 grams banana shallots (peeled)
150 millilitres vegetable stock
2 - 3 teaspoons honey
2 sprigs of fresh thyme
250 grams labneh
1 bunch of fresh flatleaf parsley (chopped)
1 bunch of fresh dill (chopped)
grated zest of 1 lemon
2 - 4 taboon breads
salt
Method
Caramelized Shallots with Herby Labneh is a guest recipe by Joudie Kalla so we are not able to answer questions regarding this recipe
For the Taboon Breads:
Combine all the ingredients and mix until a dough forms. Knead for a few minutes until the dough is soft and bouncy, then set aside in a well-oiled bowl, covered with a tea towel, for 30-45 minutes.
Once risen, divide the mixture into six balls, then roll each one out on a floured surface. Roll them out quite thinly as this will help with the bubbling, fluffy effect you are after.
Place a dry frying pan over a medium heat, then cook the flattened dough one piece at a time, for 1-2 minutes each side. As soon as you see them puffing up and browning slightly, turn them over and cook the other side. They should be fluffy and soft when cooked.
For the Caramelized Shallots and Labneh:
Put 2 tablespoons of olive oil and the cumin seeds into a pan over a low heat until they start to release their flavour, about 1–2 minutes, then add the butter and shallots and cook slowly for 7–8 minutes, until they soften slightly and start to colour. Add the vegetable stock and simmer for a few minutes until almost all the stock has been absorbed, then add the honey and thyme and stir constantly until it starts to thicken and get slightly sticky, about 5–7 minutes. Season with a sprinkling of salt and leave to cool.
Mix the labneh with the chopped herbs in a bowl and season with salt. Add the lemon zest to the remaining olive oil in a separate bowl.
Place a little of the labneh onto each of the taboon breads, followed by the caramelized shallots, and drizzle with the lemon oil.
Other recipes you might like